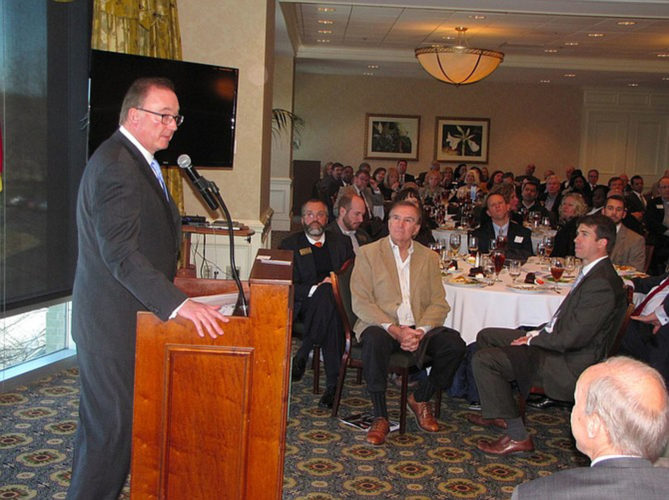 Gwinnett Daily Post
By: Keith Farner
DULUTH — Kerry Armstrong sleeps better now than he did a year ago.
The Gwinnett resident and chairman of the Atlanta Regional Commission is still aware of the main issues that concern residents in the metro Atlanta, but he said things are improving.
In a luncheon speech on Wednesday at the 1818 Club in Duluth before the Gwinnett Chamber of Commerce, Armstrong outlined issues and improvements related to Atlanta's aging population, transportation and water.
"All of these things are major challenges that no longer keep me up at night, partially because I'm used to them and partially because I have other things that keep me up at night," said Armstrong, who added his day job is a real estate developer.
The good news is the topics are being discussed in the open, despite funding remaining an issue for transportation in particular.
Despite the concerns, there are positives in the Atlanta region. Among them are 54,000 new jobs created last year, technology innovation and pockets that were struggling five years ago are now vibrant. And a recent survey said economy is no longer the top concern among residents. It's been replaced by transportation.
For the first time since he moved to the area in 1988, Armstrong said he sees courage and resolve among state legislators and the governor's office. Armstrong added that he's not in favor of a specific solution, only one that's big enough and bold enough to support.
"These people are standing up in brightly lit rooms and saying 'It's got to be now, it's urgent, it's huge, it's going to be big, we've got to have a solution,'" he said. "… Everybody is actually saying that in rooms like this in front of people like you, with the lights on and cameras on and microphones on and laying it out there and saying we're going to do something about it."
Armstrong called the Baby Boomer generation an "elephant going through a python" that's living longer and prefers to live at home instead of moving to Florida. Every conversation about those three issues relates to the Baby Boomers, who may soon not be able to walk or drive.
"A lot of what the millenials want is exactly what the boomers need," Armstrong said. "We have an opportunity to create one solution to two, or three, or four problems or challenges."
One improvement related to water is for the first time in recent memory, a member of Congress, Rep. Rob Woodall, who represents Gwinnett, is on the transportation and infrastructure committee, to add a Georgia perspective among the lawmakers from Alabama and Florida.
A recent federal lawsuit filed by the ARC has also sparked a conversation with the ARC and the U.S. Army Corps of Engineers about what the ARC has said is the Army's failure to act on water supply requests in the Alabama-Coosa-Tallapoosa River Basin that have been pending for more than 30 years.
"We've simply asked the courts to step in and intervene and cause them to do what they're supposed to do," Armstrong said. "We may not like the answer, but we need an answer, and let's get on with it. Frankly, it's kind of a friendly discussion."
The ARC is also waiting on a resolution of a lawsuit pending in the U.S. Supreme Court from Florida. A timeline is expected within three years.
http://www.gwinnettdailypost.com/news/2015/jan/21/at-gwinnett-chamber-atlanta-regional-commission/