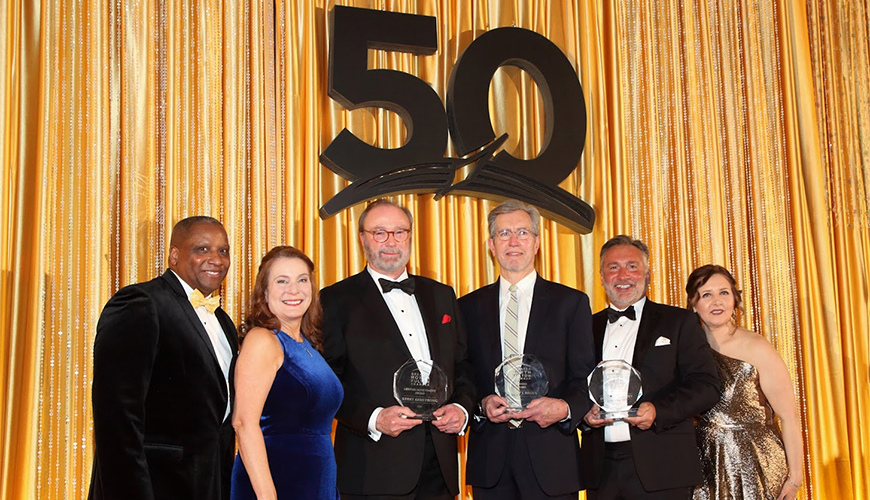 Pope & Land Real Estate
Kerry Armstrong, Managing Director, Pope & Land Real Estate, recently received the Lifetime Achievement Award from the Greater North Fulton Chamber of Commerce at their 50th Anniversary Golden Gala. The award is presented to a North Fulton leader who has, over time, exhibited outstanding service in every aspect of giving to the community. The awards committee considered business and community leadership, professional and civic contributions, current accomplishments, and history of service.
In addition to his role with Pope & Land, Armstrong has served on the Atlanta Regional Commission (ARC) since 2008 and is currently serving his fifth term as ARC Board Chairman. He has been at the forefront of shaping how this region collaborates and partners together and has been a strong and influential voice in ensuring the smart, equitable, and sustainable growth of the Metro Atlanta region during the past two decades of exponential growth.
In a statement made by Kali Boatwright, GNFCC President & CEO, "We are thrilled to honor these award winners for their leadership, vision, innovation, collaborative spirit, and commitment to building a strong and thriving region. Their impact will be felt for decades to come, and we are proud to recognize them in this way."
About The Greater North Fulton Chamber
The Greater North Fulton Chamber of Commerce is a private, nonprofit, member-driven organization comprised of over 1,300 business enterprises, civic organizations, educational institutions and individuals. Its service area includes Alpharetta, Johns Creek, Milton, Mountain Park, Roswell and Sandy Springs. GNFCC is the leading voice on economic development, business growth and quality of life issues in North Fulton County. Learn more at GNFCC.com.