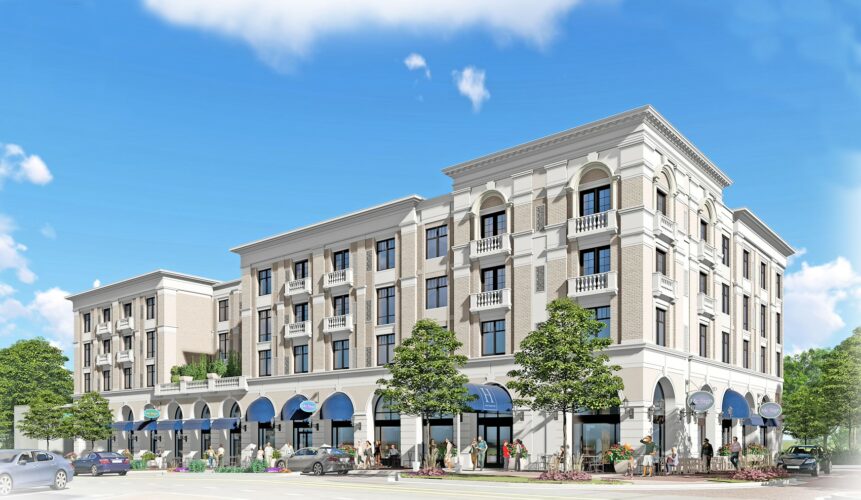 Atlanta Business Chronicle
By: Tonya Layman, Contributing Writer
With two new hotels and two additional attractions, Alpharetta's tourism industry is poised for a strong rebound following Covid-19 shutdowns.
"The Alpharetta hospitality industry's future is bright," said Janet Rodgers, president and CEO of the Alpharetta Convention & Visitors Bureau. "The hotels, shops, restaurants, events, nightlife, attractions, history and arts in the city continue to create a very desirable destination for people to visit, live, work and play."
This year, Alpharetta saw the opening of the Hilton Alpharetta Atlanta and The Hamilton, a Curio Collection by Hilton Hotel, bringing the total number of hotels within the city to 30, which is 3,939 rooms per night.
The Hilton Alpharetta Atlanta is on Windward Parkway, where most of the city's large corporations also reside, account to Rodgers. The Hamilton, a Curio Collections by Hilton Hotel, is the only hotel in the middle of downtown Alpharetta.
"It is awesome for visitors to stay in the hotel and browse through the many retail shops and find chef-driven restaurants with a variety of cuisines to please anyone's palate, all within walking distance of the hotel." Rodgers added.
The Hilton Alpharetta Atlanta opened in March with 249 rooms and 6,000 square fee of meeting space, along with outdoor terraces and a rooftop meeting area convenient to Alpharetta's business community, said Tim Zugger, the hotel's general manager.
"Alpharetta is an awesome location because there are so many businesses, especially technology companies, here," he said. "It is an affluent suburb, and the city offers a number of festivals and events. By being a full-service Hilton, we are designed for the business traveler but also provide great options for the leisure traveler."
Already sales are exceeding projections, he added.
"There has been very strong leisure business and we filled up about every weekend in the summer months," Zugger said. "We have seen a little delay in companies getting back to the office as many planned in September, with the recent surge in Covid cases, but we are definitely seeing the business travel side getting a little stronger every day."
Developed by Mayfair Street Partners, The Hamilton offers 119 rooms and 3,255 square feet of indoor and patio gathering space, along with food and beverage outlets, said Kenneth Washington, its general manager.
As the only lifestyle boutique hotel in the city, it appeals to both corporate and leisure audiences, according to Amy Sirmons, The Hamilton's director of sales and marketing.
The property's occupancy is between 30% and 45%, "which is about what we expected, but we ate ramping up and gaining more momentum as awareness is increasing," said Sirmons, adding that the company predicts occupancy rates in the 50% range in October and to increase as businesses return to in-person events and travel.
The hotel's Roaring Social is a 9,000-square-foot entertainment venue with a 1920s-esque Speakeasy, features eight lanes of "boutique bowling," a variation on traditional bowling using shorter lanes and smaller balls.
The venue serves bar bites and specialty cocktails and features live music.
It is one of two venues brought to the city by real estate holding company Competitive Social Ventures LLC.
The other is Fairway Social, an 11,000-square-foot entertainment destination where visitors can play 12 different sports through simulators in private activity pods, according to Neal Freeman, founder and CEO of Fairway Social and Roaring Social.
Fairway Social is located at the Maxwell, a mixed-use project also developed by Mayfair.
"At Fairway Social, the consumer gets to create their own experiences through touch screens so they can control whatever sport they want to tack­le that day," Freeman said, adding that since opening four months ago, sales are 25% to 30% higher than projected.
Roaring Social is a new concept, a 1920s-style speakeasy, that opened in Alpharetta in The Hamilton hotel.
Roaring Social opened last month and the company announced plans to bring another brand, Pickle & Social, to two metro locations, including one in downtown Alpharetta.
"That shows our full commitment to Alpharetta. We are tripling down, but all three come into play in to how we appeal to visitors in Alpharetta," Free­man said.
The venues also feature rentable group spaces to appeal to corporate clients, he added. "All three offer different price points and experiences, but they are all centered around competitive socializing."
With new hotels and attractions, as well as well-known brands including parks and trails, and Avalon, Alpharetta is a destination, said Rodgers, adding that the goal of the Alpharetta CVB "is to keep Alpharetta in the minds of the people who are ready or planning to travel. We attract leisure visitors to shop, dine, attend entertainment venues, learn about our history, enjoy the arts scene and visit friends and family," she said. "We also attract group business to the city such as weddings, family reunions, [bar and bat] mitzvahs, sporting tournaments, and small corporate and association meetings."