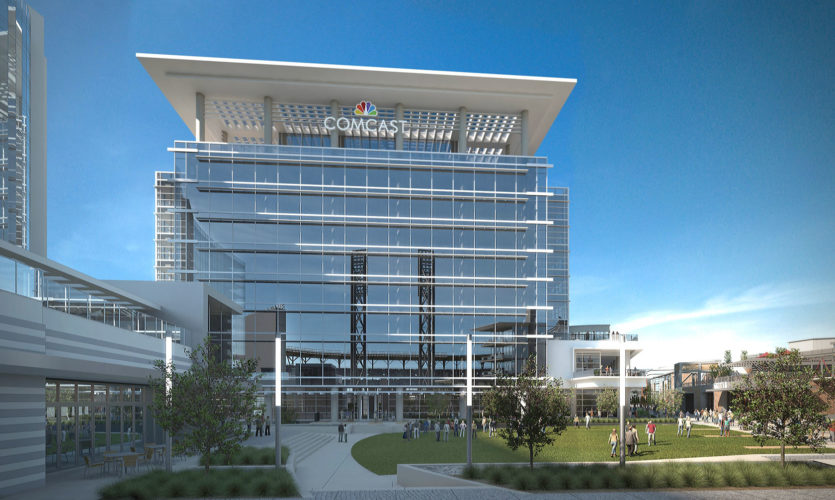 The Marietta Daily Journal
By: Ricky Leroux
All-fiber network and multi-terabit capabilities to SunTrust Park and surrounding mixed-use community will create dramatic new opportunities for fan engagement
Partnership also includes Comcast-branded office tower that will house new innovation lab and more than 1,000 Comcast employees
March 17, 2015
View: Comcast renderings »
The Atlanta Braves and Comcast on Tuesday announced a multi-year technology and real estate partnership that will deliver multi-terabit network capabilities to SunTrust Park and the surrounding community, making it the most technologically advanced mixed-use development in the U.S.
Comcast will provide video, voice and high-speed Internet connectivity throughout the 60-acre project, which includes the new ballpark, retail shops, restaurants, an office tower, hotel, an entertainment venue and residential units. The development's all-fiber network will be capable of delivering multi-gigabit speeds throughout the complex on game days and every day in between. Comcast will also become the Braves' signature tenant in a multi-story office building within the development.
"From the outset, we said the Braves would set a new standard of excellence in every aspect of this project, and building the most technologically advanced ballpark in history and redefining fan connectivity is key to accomplishing that," said Braves Chairman Terry McGuirk. "Our partnership with Comcast will keep us head-and-shoulders above other sports venues and mixed-use communities around the country and allow us to meet our fans' high expectations for engagement, awareness and access. Shoppers, hotel guests and office tenants will also enjoy an experience unlike any other community."
The Comcast network will include two datacenters, each with 10,000 fiber connections that are backed by dual 400 Megawatt generators to ensure full redundancy.
"This is a truly unprecedented project and I can't think of a better partner than the Braves, led by the visionary Terry McGuirk, as we bring record Internet speeds to fans, residents and businesses," said Comcast Chairman and Chief Executive Officer Brian L. Roberts. "We're also excited to make the community around Sun Trust Park home to 1,000 of our employees as we continue to grow our technology team and develop innovative new products."
The new nine-story office tower will house more than 1,000 Comcast employees and the majority of positions will be new, added after construction is complete in 2017. The Comcast space will include an Innovation Lab, a dedicated home for the company's growing workforce of technologists, engineers and software architects. It will serve as a primary technology development hub for Comcast, connecting directly via high-speed fiber to the company's other major R&D centers in Silicon Valley, Philadelphia and Denver. The Innovation Lab will be an epicenter for collaborating with the tech industry and academia to foster next generation communications ideas and technologies. In all, Comcast will have exclusive use of the office space. The building will also feature another 15,000-20,000 square feet of restaurant and hospitality space facing into the SunTrust Park plaza.
"The innovation that the Braves and Comcast are bringing to SunTrust Park and the surrounding community will be an enormous point of pride for all of Georgia and will put us squarely on a national stage," said Georgia Gov. Nathan Deal. "I'm particularly excited by Comcast's plans to create hundreds of jobs and to invest in a new center for technology collaboration. Georgia benefits when imaginative new technology and economic development initiatives like this come to our state."
SunTrust Park is being developed by the Braves in partnership with Cobb County, the Cobb-Marietta Coliseum and Exhibit Hall Authority and the Cumberland CID, and will be completed by Opening Day 2017. Located in Atlanta at the intersection of I-75 and I-285 in the bustling Cumberland CID, SunTrust Park will flow directly into the surrounding development, creating a vibrant atmosphere with unique shops, restaurants, offices, residences and entertainment venues that are accessible 365 days a year.