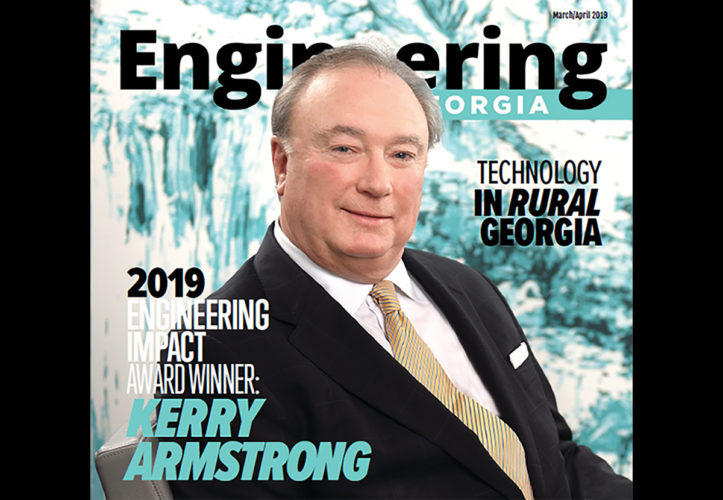 Engineering Georgia / FEATURE
March/April 2019
Kerry Armstrong is a leader among leaders. The accomplishments achieved under any one of his roles throughout the years, would alone be enough to qualify him for this award. Whether serving as Chairman of the Gwinnett Chamber, Greater North Fulton Chamber, the Council for Quality Growth, the North Fulton CID or his current role as Chairman of the 10-county Atlanta Regional Commission, his leadership has had a positive impact on every part of the metro Atlanta region. He has also enjoyed a decades-long career as one of the Atlanta region's most prominent and well-respected commercial real estate developers – first with Duke Realty and most recently as managing director for development and investment at Pope & Land Enterprises.
The projects he's most proud of are the ones that have been complex, involving many stakeholders and the community. "They are challenging to put together, and the end result is a positive contribution to where people work and live," says Armstrong.
His ability to bring complex developments to fruition is one reason he is being honored with the Engineering Impact Award, presented by the American Council of Engineering Companies of Georgia (ACEC Georgia).
Taylor Wright, P.E., vice president, sector manager of the public and private business unit of Atkins, believes Armstrong demonstrates that immeasurably. "What sets Kerry apart is his devotion to improving the infrastructure in Atlanta," Wright says.
Not only is Armstrong a developer with Pope & Land, he's also chairman of the North Fulton Community Improvement District and chairman of the Atlanta Regional Commission. "He's really committing a lot of his time to improve the region," Wright says. "That's just two areas where he has been a big influence in engineering." Armstrong says two of the projects of which he is most proud are Northwinds Summit in Alpharetta and 3630 Peachtree in Buckhead. Both are mixed-use developments.
Wright argues one of Armstrong's legacy projects is the Encore Parkway Bridge in Alpharetta, which he oversaw as part of the North Fulton CID. "That is a signature project for that area, and it would not have happened if not for the North Fulton CID," Wright says. "It's a way to connect the mall with the amphitheater, but it is transformative in the way it brings different modes of traffic together: vehicular, pedestrian, bicycles, and hopefully soon, transit."
It's infrastructure that connects developers and engineers, Wright says. Armstrong, too, understands the connection between his avocation and engineering. "I understand the importance of real talent in the engineering profession and making the world a better place," he says. "I've been in a position to work with a lot of great engineers and see their impact on the world." Armstrong may be receiving the Engineering Impact Award, but it's because of those engineers that he's been successful, too. "I'd like to thank all of them for their work over the years."