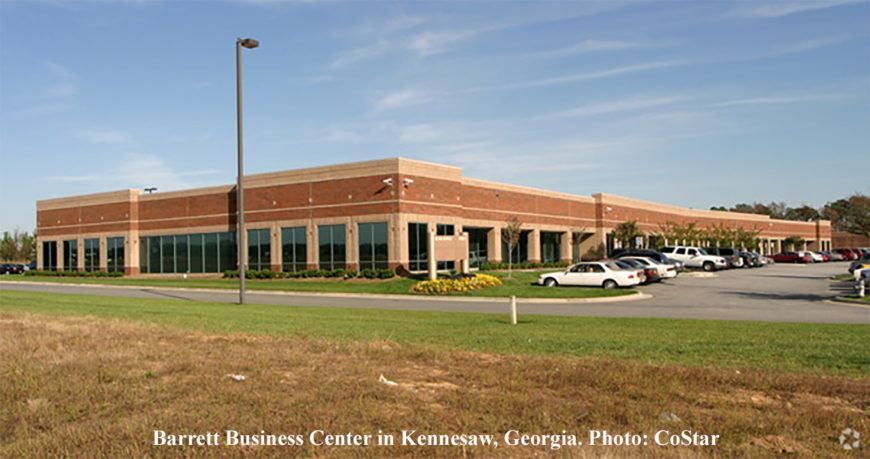 CoStar Group, Inc.
By: Philippe Jomphe
Pope & Land Real Estate Sells Stabilized Barrett Business Center for $24.3 Million.
ESJ Capital Partners has acquired a near fully leased business center in suburban Atlanta with plans to spruce up the park with more than $1 million in capital improvements.
The Miami-based investment management firm finalized a $24.25 million deal with Atlanta's Pope & Land Real Estate to acquire Barrett Business Center, a 187,373-square-foot, four-building office park in Kennesaw, Georgia.The sale price comes out to nearly $126 per square foot.
Pope & Land Real Estate developed the park in phases between 1999 and 2008 at 2015 Vaughn Road in Kennesaw, a northwest Atlanta suburb with one of the largest concentrations of health care-related employment in the market driven by WellStar's Kennestone and Cobb Hospitals. Below-market rents have kept vacancy low in Kennesaw, as has the relatively low amount of new construction, according to CoStar's latest report on the submarket.
Barrett Business Center is currently 92 percent leased to a tenant roster that includes welding company Airgas and Carmax Auto Finance, which each occupy a full building, as well as Can Capital and Strategic Link Consulting, among others.
ESJ, whose portfolio totals more than 3 million square feet and exceeds $650 million in assets under management, said it plans to invest more than $1 million into renovations at Barrett Business Center that will target the property's common area and business systems. ESJ has also retained Pope & Land to handle property management and leasing at the park.
"Barrett Business Center ideally fits our stated goals for the growth and diversification of our portfolio," said David Garfinkle, a partner at ESJ and head of its real estate division. "We have a great deal of interest in similar well-positioned, well-managed properties with excellent long-term potential."
For the record:
Justin Parsonnet and Ryan Reethof with CBRE represented Pope & Land Real Estate in the transaction.
Please see CoStar Comp #4704848 for more information.