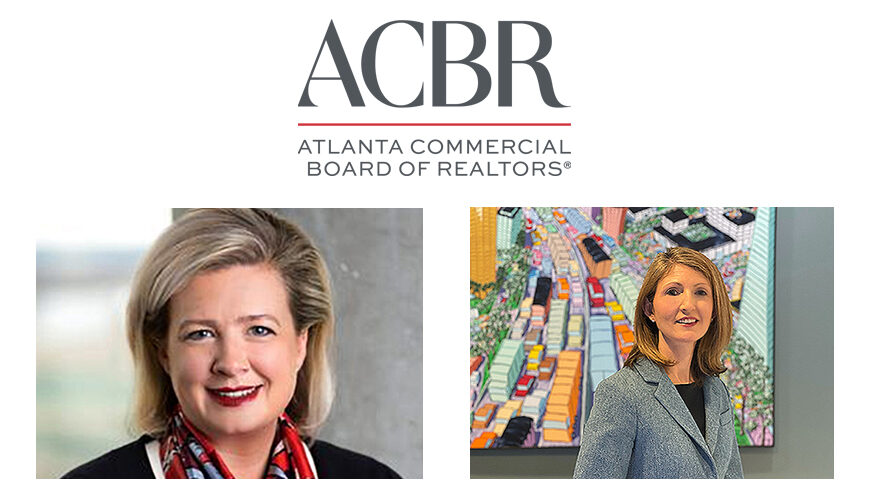 Atlanta Business Chronicle
By: Martin Sinderman, Contributing Writer
Two Atlanta Commercial Board of Realtors mentors who knew first-hand the value of mentorship worked together to develop the board's Diversity Mentorship Program.
Allison Bittel, senior vice president and principal in Colliers Atlanta's Office Occupier Services division, and Jennifer Koontz, managing director of the Leasing and Advisory Services division of Pope and Land, are dual winners of ACBR's Realtor of the Year Award for 2021. The ACBR gives the Realtor of the Year honor annually to board members in good standing who exemplify the highest levels of "Realtor spirit, civic activity, and business accomplishments."
Bittel was 2020/2021 Chair of the Mentorship Program. Koontz, meanwhile, was Chair in 2019/2020, following that up with working closely with Bittel while serving as co-chair the following term.
"It is very unusual for the board to name co-winners, but in the case of Jennifer and Allison, it was the natural thing to do, given what they have accomplished together for the Mentorship Program," said Avison Young Principal Kirk Rich, ACBR director and diversity co-chair.
ACBR's Diversity Mentorship Program grew out of the organization's diversity committee. Established in 2014 as part of then-ACBR President John O'Neill's vision to make ACBR's membership more closely resemble the population of the city it serves, the diversity committee's purpose is to "embrace, educate, and elevate minorities and women in the commercial real estate industry through avenues such as networking, education and mentorship programs."
ACBR is recognized around the country for its diversity efforts, with Bittel and Koontz playing key roles in promoting that reputation through their Mentorship Program work, according to Jodi Selvey, ACBR 2021 president and senior vice president and principal at Colliers International Atlanta.
"Jennifer and Allison elevated the diversity program at ACBR by getting more organized, getting the word out so more people would apply to the program, and spending their time and talent making sure that we got both the right mentees and the right mentors," Selvey said.
"They come up with really smart ways to make sure we are vetting the folks coming into the program," adds Rich. "They changed the way interviews of potential mentees are done, so we can better know that the person being mentored by an industry leader will stay in the commercial real estate industry — and in turn become another leader."
Mentors and champions
Koontz graduated from Wake Forest University in 2002 with a degree in business administration. She joined Pope and Land in 2003 as a construction manager and leasing agent, and now leads the firm's Leasing and Advisory Services unit.
"Since joining us 19 years ago, Jennifer has continually proven her professionalism and commitment to the real estate industry and to all those she deals with," said Larry Kelly, CEO and vice chairman, Pope and Land.
"I would not be where I am in my career if it weren't for the mentors and champions in my life," said Koontz, "and it is because of the strong mentoring that I have received that I understand how important mentoring is for anyone's success.
She cites Kelly, Mason Zimmerman, and De Little as individuals who have been her mentors during her tenure at Pope and Land.
"However, the person I owe the most to is undoubtedly Jackie Gauthreaux," said Koontz. The former vice president of the Leasing & Marketing at Pope and Land "hired someone who thought it [commercial real estate] was called 'corporate real estate' and had no idea what TI [tenant improvements] stood for, and taught me the ins and outs of the business."
Paying it forward
A 1998 graduate of Rhodes College with a degree in business administration, Bittel began her commercial real estate career in 2001 with the Atlanta office of Cushman & Wakefield, where she worked for 18 years and ultimately attained the position of managing director.
She joined Colliers International Atlanta in 2019, where she is a leader in the firm's Office Occupier Services division.
"Allison is one of the most professional, thoughtful and competent brokers I have ever had the chance to work with," said Bob Mathews, chairman and CEO, Colliers Atlanta. "Her leadership with the ACBR Diversity Committee has taken it to a new high level of effectiveness for mentors and mentees," he adds.
When Bittel joined the industry, there were no formal mentorship programs, she recalls. "So I was on my own to identify individuals along the way who could help me learn the business," she said.
But, "I was extremely fortunate to have my late father, [Atlanta office condominium pioneer] Joel Griffin, who was a successful developer and one of my strongest supporters,  and several amazing women, such as Jennifer Koontz, who became part of a group of close friends, and we leaned on each other."
"I like to say we 'grew up in the business together,' becoming peer mentors, as we navigated the industry," Bittel said.
"Today, many of us are still in the business, and are paying it forward for future leaders."
Koontz and Bittel are great examples of the benefits of diversity in the commercial real estate business, Rich said.
"Jennifer and Allison are both pioneers as females in our industry, playing leading roles with Pope and Land and Colliers," he notes, "and they are both extraordinary individuals."