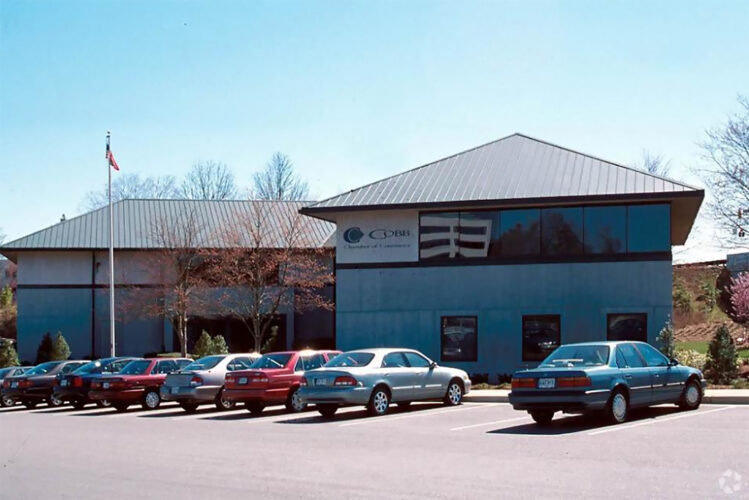 CoStar Group, Inc.
By: Tony Wilbert, Senior News Writer
Cobb Chamber to Relocate to Across from SunTrust Ballpark
The Cobb Chamber, a business advocacy group that promotes the county that's home to Home Depot's headquarters, Lockheed Martin Aeronautical and the Atlanta Braves, has sold its own headquarters and will relocate to a building adjacent to the baseball team's ballpark.
Pope & Land, a longtime Cobb County development firm, acquired the chamber's two-story, 24,672-square-foot building at 240 Interstate North Parkway that sits on 1.7 acres. Pope & Land paid the Cobb Chamber $3.85 million, or $156 per square foot, for the property, according to CoStar data.
Given its location in the heart of the growing Cumberland-Galleria market, the site could eventually be redeveloped. Since The Battery , the mixed-use developed anchored by the Braves' SunTrust Park, opened in the spring of 2017, Cumberland-Galleria has attracted new interest from investors, developers and companies seeking to relocate.
Mason Zimmerman, senior managing development partner at Pope & Land, said the firm has no specific plans for the property as of now.
"The chamber has the right to stay through January 2020," Zimmerman said in an email. "We just like the real estate and think it has good potential."
The Cobb Chamber plans to move to the office tower at 1100 Circle 75 Parkway, directly across the street from SunTrust Park. The group said it would lease the 10th floor, or 17,517 square feet of space, at the 16-story, 288,000-square-foot building.
The new space has 360 degree views of metro Atlanta and will feature meeting rooms, event spaces and modern workspaces, the chamber said.
Cobb Chamber President and CEO Sharon Mason said in a statement the group selected 1100 Circle 75 "after an extensive search. The Cobb Chamber is experiencing a time of tremendous growth and momentum, and we are excited to match our brand with this new space that will help us tell Cobb County's story to the 12,000-plus members and guests we host each year."
For the Record
Andrew Walker of Colliers International represented Cobb County in the sale of 240 Interstate North Parkway. Chad Koenig and Trey Dove of Cushman & Wakefield represented Cobb Chamber in the lease for its space at 1100 Circle 75 Parkway. The chamber selected Rule Joy Trammell + Rubio as the architectural design firm and Darden to serve as project manager at its new space.