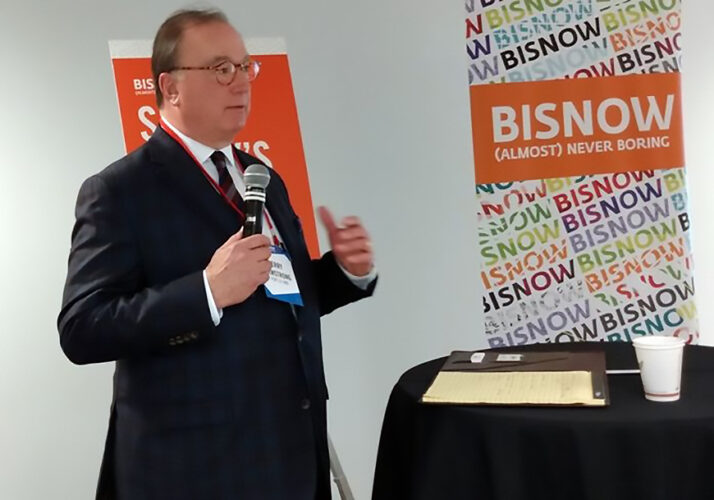 BISNOW ATLANTA
By: Jarred Schenke, Bisnow Atlanta
The a-word isn't just for the city of Atlanta anymore. Affordability is now becoming a crucial problem in one of Metro Atlanta's most affluent suburbs.
Just like in the city itself, many developers and civic leaders in the North Fulton County area have raised concerns that a lack of housing for people staffing an abundant number of retail stores, restaurants, offices, schools, and police and fire departments could derail the area's future prosperity.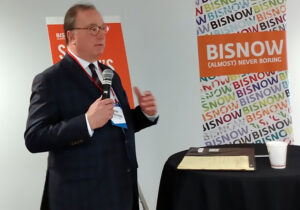 Bisnow/Jarred Schenke
Pope & Land Managing Director Kerry Armstrong
"The people who make the world go around are having trouble affording to live here," Pope & Land Managing Director Kerry Armstrong said during Bisnow's North Fulton event earlier this week.
Armstrong was one of a number of speakers who expressed concern that the region was struggling to offer affordable housing, or even a diverse option of housing stock, at a time when commercial development is surging.
"I think housing is the single largest risk factor to continued growth in North Fulton," The Worthing Cos. President Darin Collier said, adding that the area needs 32,000 new housing units to keep up with future demand.
North Fulton is loosely defined as the northern chunk of the larger Fulton County area, stretching just north of Central Perimeter and straddling the Georgia 400 highway northward to Forsyth County. It includes Alpharetta, Johns Creek, Milton and Sandy Springs, which are among some of the most affluent cities in Metro Atlanta.
The average household income in North Fulton exceeds $132K annually, according to data compiled by the U.S. Census Bureau and the Atlanta Regional Commission. In contrast, average household incomes in the 10-county metro region, which includes Fulton as well as Gwinnett, Cobb and DeKalb counties, was $88,300 as of 2017.
Between 2010 and 2018, North Fulton's population grew by 13% and now tallies more than 385,000, according to the ARC, but new housing development has remained focused on single-family stock and a smattering of luxury apartments.
Between 2010 and 2017, developers unveiled some 6,000 new apartment units in North Fulton, compared to an excess of 20,000 new units in the 10-county metro area, according to data compiled by the Census Bureau and the ARC. Add in single-family housing, and North Fulton saw 10,200 new living units compared to 77,300 for the larger region.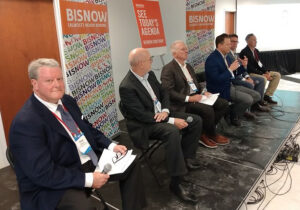 Bisnow/Jarred Schenke
Cost Segregation Services specialist Keith Mangum led a panel focused on North Fulton County.
That has helped pump up both housing prices and rents. Between 2013 and 2018, the average per SF home price skyrocketed from $125 to $168, according to the ARC. Housing prices for all of the 10-county region during that time period rose from $90 per SF to $131 per SF.
Average apartment rents in some of North Fulton's cities also are among the highest in the state, according to Yardi Matrix's December data.
But just pumping out more houses and apartments is much easier said than done in an area where NIMBYism is strong, panelists said. When it's workforce housing and apartments, the issue becomes polarizing for North Fulton governments and neighborhood activists, Penn Hodge Properties principal Penn Hodge said.
Hodge said neighborhood groups maintain a perception that after two decades in existence, apartments turn into "slums," forcing developers to introduce a limited supply of new apartments only if they're packaged into a larger mixed-use development.
"[That perception] has been led to a large extent by the school board members. That's the argument they give," Hodges told Bisnow after the event. "Try to get a stand-alone apartment complex zoned in Alpharetta? It's a non-starter. All [of] these planners talk about affordable housing. And it's just you know when you actually peel back the onion, it's a very hard sell in these affluent areas."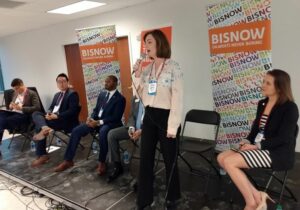 Bisnow/Jarred Schenke
Sandy Springs Economic Director Andrea Worthy discusses a lack of affordable housing.
Even economic development leaders with some of North Fulton's cities conceded that affordability was a mounting issue, but that apartments and other such units needed to fit into the overall area.
"Roswell is about protecting neighborhoods. Sometimes we get a bad backlash because it's anti-multifamily. I don't think it's anti-multifamily. It's understanding where that works," Roswell Inc. Executive Director Steve Stroud said.
"We acknowledge there's not a quick answer to that. Governments all over are going to have to start looking at requiring workforce housing," Sandy Springs Economic Development Director Andrew Worthy said.
This dynamic has created a commuter population coming into North Fulton, where, according to the ARC, 20% of North Fulton residents reported spending more than seven hours weekly commuting to and from work. That may just push people to live farther out in the future in a quest to find something affordable, Smallwood President Chuck Hull said.
"The future of North Fulton is really going to be driven by how we solve the issue of housing affordability. There's a reason why Forsyth County is growing so fast right now, and it's not because people don't want to live in Midtown," Hull said.