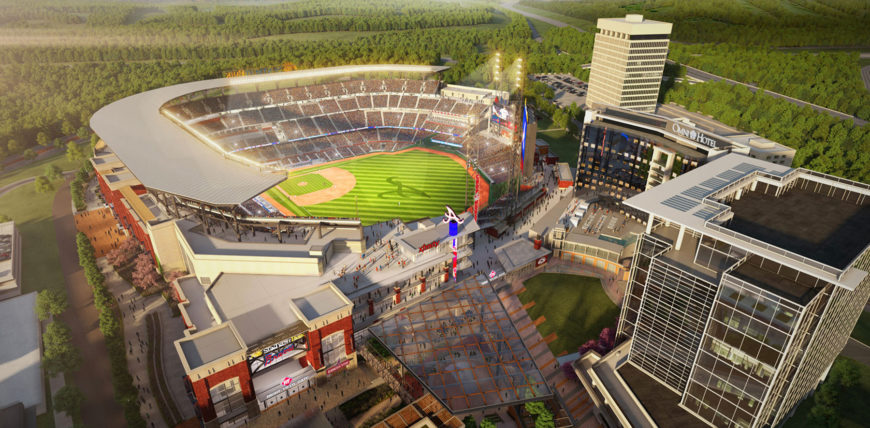 ATLANTA BUSINESS CHRONICLE
Douglas Sams & Amy Wenk
The Atlanta Braves have picked their development partners for a 74-acre mixed-use project connected to their new Cobb County ballpark.
In an interview Tuesday with Atlanta Business Chronicle, Braves officials said Atlanta-based companies Fuqua Development LLC, Pope & Land Enterprises, and Pollack Shores Real Estate Group will partner on the $400 million project.
The news doesn't come as a huge surprise, considering the other finalist, a team including Hines and North American Properties, pulled out of consideration this spring.
Leasing efforts are well under way. Earlier this year, representatives for the Braves showed concepts at the International Council of Shopping Centers annual retail convention in Las Vegas.
"Nationally, we have had a great deal of interest from a lot of blue-chip players," said Mike Plant, Braves' executive vice president of business operations.
"The interest is intense," said Jeff Fuqua, who founded Fuqua Development with former Sembler colleague Heather Correa. "We are very confident we can have this leased and stabilized at a high level."
The project will be unprecedented, Atlanta Braves President John Schuerholz has said, due to its scope (about the size of a regional mall) and the fact a sports team is controlling the development.
Braves Chairman and CEO Terry McGuirk said Tuesday, "We are going to be a big part of this development team," adding, "it has to operate the 284 days of the year that we aren't playing games there."
The Braves are drawing inspiration from projects such as Ballpark Village, a dining and entertainment district next to Busch Stadium in St. Louis. But the Braves project would be 10 times larger.
It could include up to 630,000 square feet of class A office space, 500,000 square feet of retail, 450 hotel rooms and 500 residences.
In a previous interview, the Braves shared big ideas for the mixed-use project such as a microbrewery, a concert venue and a central plaza lined with shops and restaurants.
The Braves could leverage existing relationships with popular local chefs, including Kevin Rathbun and Linton Hopkins. Both currently offer food at Turner Field.
The central plaza would likely be lined with first-to-market shops and large-scale restaurants, and would serve as the nexus for events such as festivals and races.
The Braves said they expect to name an entertainment partner in the coming weeks. In consideration could be big-time entertainment companies such as Los Angeles-based AEG, which works with artists such as singer Taylor Swift and on events such as ESPN X Games.
Another option could be Beverly Hills-based Live Nation Entertainment Inc., which produces many local events, including Music Midtown.
The Braves plan to open the project in 2017, along with the new 41,500-seat ballpark.
"We have never wavered from that part of the plan," McGuirk said. "It's going to be an incredibly vibrant community."
Jones Lang LaSalle, which has served as the Braves' real estate and development consultant throughout the project, remains a key component of the development group.
The Jerde Partnership, which has served as the master planner on the development, will continue to guide the land-planning aspect.
Fuqua will lead the efforts to land new stores and restaurants. Pollack Shores will develop apartments. Pope & Land will spur the development and leasing of office buildings.
Construction on the mixed-use development could begin later, perhaps about a year after the ballpark, but it will finish in time for the first pitch of the 2017 season, Braves officials say.