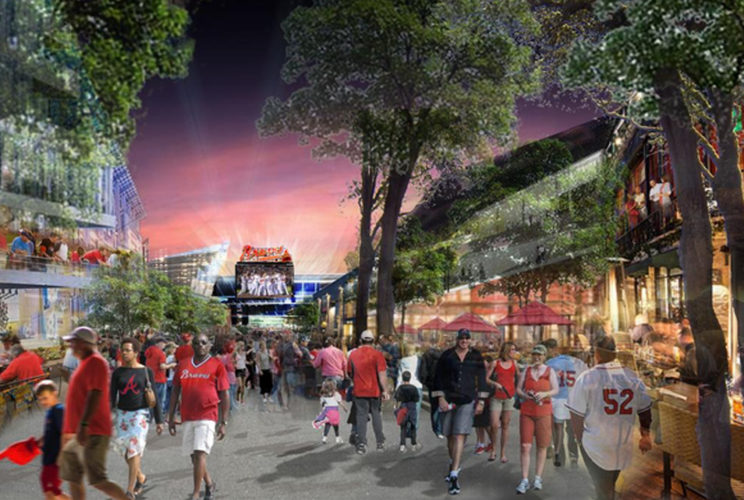 ATLANTA BUSINESS CHRONICLE
Douglas Sams & Maria Saporta
A powerhouse team that included Los-Angeles-based sports and entertainment company AEG has pulled out of consideration to develop the mixed-use project surrounding the Atlanta Braves new Cobb County ballpark.
The move was confirmed by sources familiar with the project.
The AEG development group also included Houston-based Hines Interests and Cincinnati-based North American Properties. Hines' Atlanta executives could not be reached. North American Properties declined comment.
The decision leaves one development team standing in the competition to develop the $400 million mixed-use project — Atlanta developers Fuqua Development LLC, Pope & Land Enterprises Inc., Pollack Shores Real Estate Group, and Batson Cook Development Co. The Atlanta Braves have tapped world-renowned architect The Jerde Partnership Inc. to design the project.
In a statement, the Braves said, "As we continue to make progress, we are even more optimistic and confident to bring both a world-class ballpark and a vibrant mixed-use development to Braves fans and the community. We have been dedicated to finding the best partners for the long term success of this project. … We are committed to our detailed process as we evaluate potential developers for the mixed-use portion of this project and are excited about the progress we have made thus far."
The Braves would like to make the decision, ideally in the next 30 days, about who will develop the mixed-use project and entertainment district, people familiar with the process have said.
AEG, known for some of the world's most popular arenas and entertainment venues including L.A. Live in downtown Los Angeles and The O2 in London, was thought to be a difference maker for its development team. Hines Interests and North American Properties also have deep connections in Atlanta real estate, and both companies have well-known local projects in their portfolios. Hines has developed towers such as Midtown's 41-story 1180 Peachtree and the Ravinia project on the Atlanta Perimeter. North American Properties is operating partner on Midtown's Atlantic Station and the developer of Avalon, one of the largest new mixed-use projects in the Southeast.