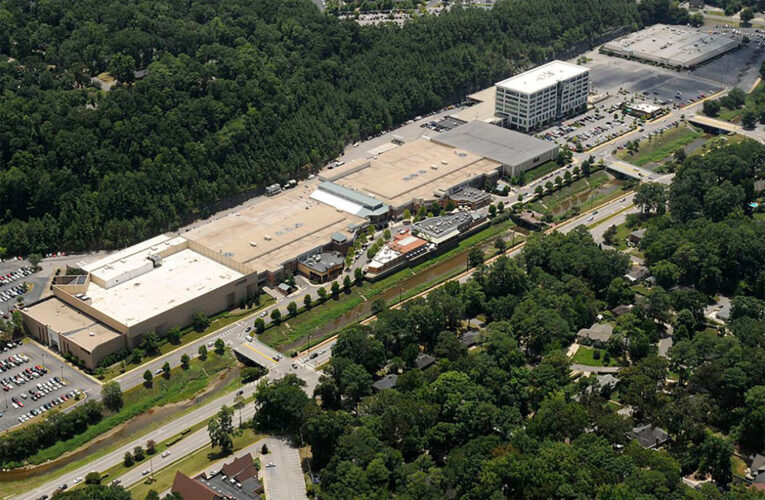 Pope & Land Real Estate
By: Pat Becker, Marketing
Fairway Investments of Birmingham and Atlanta-based Pope & Land Real Estate recently completed the acquisition of Birmingham's Brookwood Village Mall. Plans are to revitalize or redevelop the property into a vibrant, mixed-use project which could be "something more appropriate and representative of the communities it serves," said Sims Garrison, chief operating officer of Fairway Investments. "We bought it because we love the real estate and want to try to restore the vibrancy to Brookwood Mall again," Garrison said. The deal includes the adjoining Fresh Market anchored retail center. However, the acquisition didn't include Macy's, Target or Brookwood Office Center.
Architectural firms Goodwyn Mills Cawood (GMC) and DAG Architects, as well as other consultants, are providing architectural and planning services for the development. Various scenarios are being explored to maximize the potential of the property.
Brookwood Mall was originally completed in 1973 by the Shepherd family and through the years was home to a host of local favorites such as Gus Mayer Clothing, Farrell's Ice Cream Parlor, Aladdin's Castle, Oshman's Sporting Goods, Sons & Harwell, Rosenberger's, EE Forbes & Sons Piano, Just For Feet, The Jolly Ox and Chick-fil-A's first restaurant in Birmingham.
The original anchors, Rich's and Pizitz, eventually became Macy's and Belk's. In 2001, Colonial Properties Trust acquired the mall and completed an extensive $50 million overhaul of Brookwood Village, which included creating an outdoor streetscape and adding exterior restaurants Cocina Superior, Brio, Jason's Deli, Five Guys Burgers & Fries and The Copper Grill.  However, today only Macy's, a few retailers, Hickory Tavern and 5 Guys Burgers & Fries remain open.
Unfortunately, numerous brick-and-mortar retail stores have suffered in recent years as shoppers have flocked to companies like Amazon for the convenience of shopping from home. That, combined with the Covid-19 pandemic, have caused the steady decline of malls like Brookwood Village. However, Brookwood Mall's prime location between Mountain Brook and Homewood makes it an attractive property.
"Our community is overdue for a new, vibrant project at Brookwood Village, and I am confident that, with this new ownership, we can work together to achieve that goal" said Mountain Brook's Mayor, Stewart Welch. In addition, City of Homewood's Mayor, Patrick McClusky said, "The Brookwood Village property has been a great topic of discussion over the last several years, and I know that Homewood and the surrounding communities are thrilled to see new life coming to the area. We are excited to work with the developers and neighboring municipalities to bring a fresh and lively new project to the Brookwood property."
WVTM13 birmingham, al
LINK TO NEWS COVERAGE: HOMEWOOD COUNCILOR LOOKS FORWARD TO BROOKWOOD VILLAGE RENOVATION
"The unique and irreplaceable dynamics of the Brookwood Village property and our longstanding relationship with Fairway Investments are the reasons that Pope & Land chose this acquisition as our first venture in Alabama," Larry Kelly, CEO and vice chairman of Pope & Land, said in a release. "We are confident that the path forward will include some way to leverage the impressive location, accessibility and demographics and a potential opportunity to create a central gathering space and integrate it with a re-imagined Shades Creek."