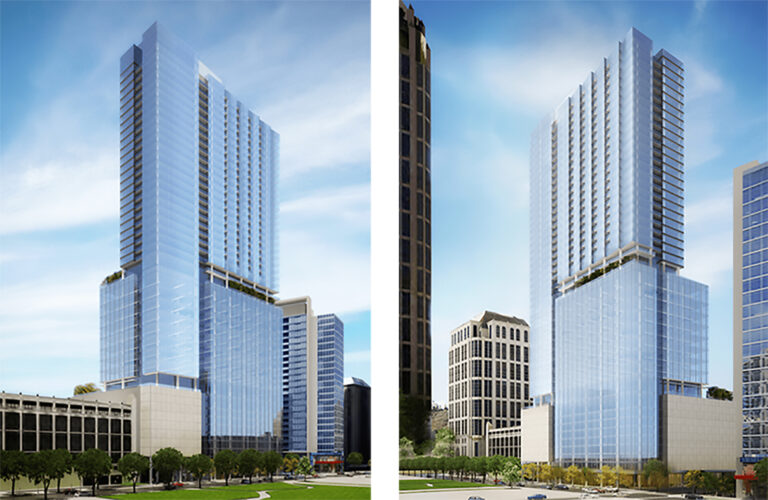 Atlanta Business Chronicle
By: Donnell Suggs, Development Reporter
THE HANOVER COMPANY
Rendering of the 31-story multifamily apartment tower at 1230 West Peachtree Street.
A Texas-based real estate developer has paid $19 million and secured a construction loan for a Midtown high-rise apartment site.
The Hanover Co. purchased a former Boys and Girls Clubs of America location on West Peachtree Street, according to Fulton County property deeds. It also landed a four-year, $92 million construction loan from Wells Fargo & Co. Hanover 's capital partner is United States Automobile Association (USAA).
Hanover will begin developing the tower soon, sources close to the project say.
Pope & Land Enterprises Inc., an Atlanta real estate firm, sold the development site.
What it means: Lenders continue underwriting high-rise rents at levels they believe new projects can achieve. Capitalization rates also remain aggressive. Developers are willing to pay high prices for prime Midtown real estate. In April, Greystar purchased the former Big Brothers Big Sisters headquarters at nearby 1382 Peachtree Street for $305 per land square foot, a common real estate metric. Hanover is paying $381 per land square foot for just a slightly larger property. Rockefeller Group also paid $25 million for the 1.1-acre development site.
At a glance: The 31-story project will have 421 units and 13,000-square-feet of ground-floor retail. The units will average 1,000 square feet. Rental rates could not be obtained.
The basics: The Hanover tower will rise at 1230 West Peachtree Street near the Arts Center MARTA station and the High Museum. Pope & Land appears to have made a profit on the sale. In 2006, it bought the site for $8.5 million from The Boys and Girls Clubs of America. Rich Arroll of Major & Arroll brokered the transaction. Solomon Cordwell Buenz is the architect, Atlanta Business Chronicle reported.