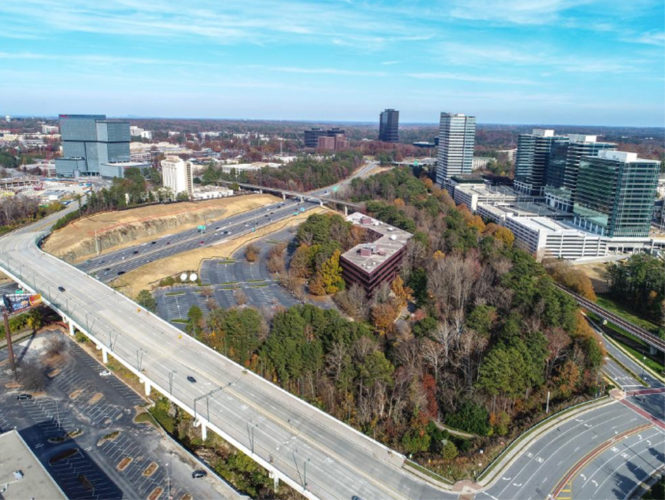 ATLANTA BUSINESS CHRONICLE
By: Douglas Sams, Commercial Real Estate Editor
CRANE WATCH
TriGate and Pope & Land want to plan a long-term redevelopment of the former Cox Enterprises headquarters.
On Atlanta's Perimeter, a vacant boomerang-shaped office building stands at the center of a sprawling headquarters once occupied by Cox Enterprises Inc.
The 21-acre site used to be the home of more than 900 employees. Now, it's being looked at as a potential redevelopment along I-285 in Brookhaven that ties the entire area together.
A partnership led by Dallas-based TriGate Capital purchased the former Cox headquarters for almost $13.3 million, according to DeKalb County property records. It closed on the project Nov. 21.
Cox Automotive Inc. was the seller.
TriGate is partnering with Atlanta-based Pope & Land Enterprises to come up with a redevelopment plan for the former campus, which has housed both Cox Automotive and AutoTrader offices over the years.
The campus sits between two MARTA stations, office projects Perimeter Summit and Perimeter Mall. The redevelopment plan, led by Pope & Land, is being crafted by architect Cooper Carry and design firm HGOR.
"We are going to be very smart and thorough about the plan for this site," said Kirk Billings, a managing director with Pope & Land.
Twenty years ago, Cox — one of Atlanta's largest employers — was already outgrowing the former headquarters at 1400 Lake Hearn Drive. It completed a new main headquarters along Peachtree Dunwoody Road in 2001 and has continued consolidating various divisions around the facility.
The former Lake Hearn campus now sits in the middle of a slowly urbanizing Perimeter. Area employers from insurance giant State Farm to rapidly growing staffing company Insight Global are putting their buildings right by MARTA stations so more workers have a commute option other than a car. Around those projects new apartments have popped up, adding to residential density.
A master plan for the 1400 Lake Hearn redevelopment would look at ways to connect to surrounding office, housing and retail projects most likely through greenways such as the PATH400 trail. It will eventually run north from Buckhead to the Perimeter along Peachtree Dunwoody Road and through the Georgia 400/285 interchange.
The TriGate-Pope & Land redevelopment could weave all of those projects together, with a new commercial node filled with residences, hotel rooms and restaurants.
It lies between the Medical Center and Dunwoody MARTA stations and can link to PATH400 — an important piece of an overarching master plan for the area, including more ways for people to walk and bike to their destinations, said Ann Hanlon, executive director of the Perimeter Center Community Improvement District.
"That Cox site is at the intersection of all of those efforts," she said. "We've already got the oceanfront properties. Now, it's about how to connect people going to and from these projects."