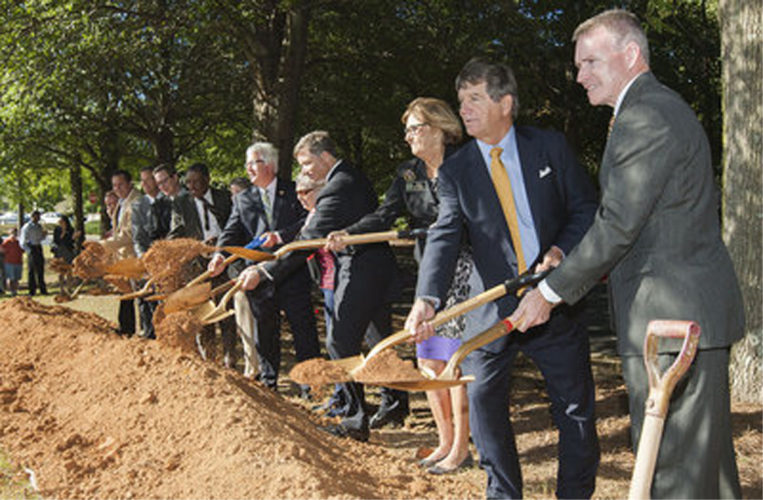 MDJ Online.com
Nikki Wiley
District 11 GDOT Board member Jeff Lewis, Kennesaw State University President Daniel Papp, Cobb County District 1 Commissioner Helen Goreham and other officials participate in a groundbreaking ceremony Wednesday for the Skip Spann Connector, which will offer another avenue into the Kennesaw State University campus from Interstate 75.
TOWN CENTER — Designed as a bridge between academia and business, the Skip Spann Connector broke ground Monday. Officials say it will be a monument to a man who worked to fuel growth in the north Cobb suburbs.
The $17.8 million project, which will create a bridge between Frey Road and Busbee Drive over Interstate 75, is expected to open by mid-2015.
It will continue to Townpark Lane connecting Kennesaw State University and the Towne Park business center.
An additional off-ramp from I-75 north at Chastain Road will be constructed from Busbee Drive. Another ramp off I-75 south will connect directly to Frey Road without merging traffic onto Chastain Road.
That's expected to reduce traffic on Chastain Road as much as 19 percent.
"This is a design that serves the community, but it's also a gateway to the community," said Mason Zimmerman, board chairman for the Town Center Area Community Improvement District, a self-taxing district that includes the area of the bridge.
Students from KSU, Southern Polytechnic State University and Chattahoochee Technical College designed the appearance of the bridge that will mimic the silhouette of Kennesaw Mountain's twin peaks. Engineers designed its infrastructure.