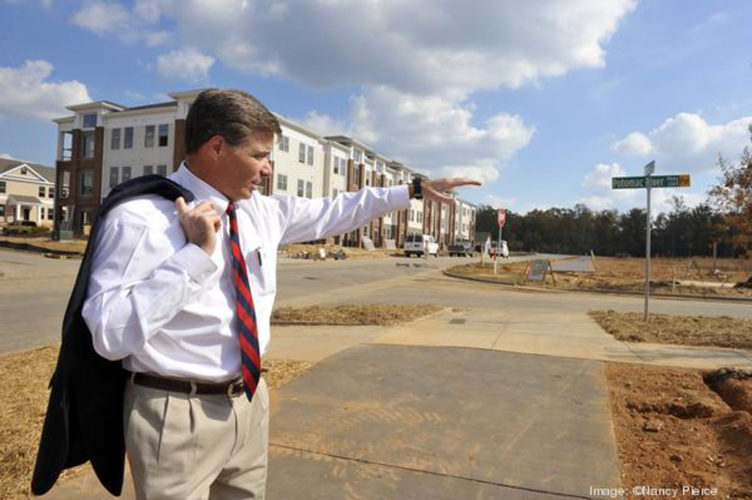 Charlotte Business Journal
Will Boye, Senior Staff Writer
Pope & Land Enterprises' City Park Development, on the site of the former Charlotte Coliseum, is finally taking shape, led by Mason Zimmerman.
For about a year after his company acquired the Charlotte Coliseum property in 2006, Mason Zimmerman made the arena his home away from home. Literally. Pope & Land Enterprises Inc. demolished the coliseum in 2007, but Zimmerman frequently made trips to Charlotte to work on the development firm's plans for a multi-use project at the site, called City Park. The coliseum's offices, located above the ticket windows, featured a full bathroom with shower. Rather than pay to stay in a hotel, Zimmerman converted one of the offices into a bedroom and slept there whenever he drove here from Atlanta, where Pope & Land is based.
"I used to get up in the morning and jog around the ring and run the stairs," says Zimmerman, a senior vice president with the firm. "I was like the Wizard of Oz in this big old building by myself."
With apartments soon to deliver at a 284-unit complex, City Park is about to get its first real residents. The project, on 150 acres between West Tyvola and Yorkmont roads, next to Renaissance Park, had been dormant for years. That changed when multifamily developer Oxford Properties broke ground for a nine-building community last year called CityPark View. The first 60 apartments will be complete this month. Oxford has an option on adjacent land for a second phase.
Pope & Land has lined up additional land sales in 2014: RA developer based in Raleigh has a parcel on Tyvola under contract and is planning a 200-room hotel. RTwo real estate investment firms have parcels totaling 42 acres under contract for office development that could total more than 400,000 square feet. RAnd Pope & Land is in discussions with homebuilders for 20 acres adjacent to the multifamily project.
Says Zimmerman: "It's an overnight success that took six years." When the city of Charlotte decided to sell the Charlotte Coliseum to help pay for a new uptown arena, Pope & Land emerged as one of two potential buyers for the property in late 2005, ultimately outbidding Virginia-based Comstock Partners. Pope & Land specializes in developing mixed-use projects in the Southeast. It was attracted by the property's size, its proximity to major highways and Charlotte's airport, and nearby amenities such as Renaissance Park and the Charlotte regional farmer's market, both walkable from the City Park site.
"It's always been a really good piece of dirt from a locational perspective," says Dustin Read, director of the center for real estate at UNC Charlotte, who co-authored a case study on the city's sale of the property. "It's got a lot of very positive fundamentals. It just came on line at the wrong time in the cycle."
Pope & Land secured $15 million from Dutch financier Bouwfonds, demolished the coliseum in June 2007 and pulled up 2.5 million square feet of parking lots to ready the site for new development. Zimmerman says Pope & Land had multiple tracts under contract, with buyers waiting on approvals and permits from the city before closing on their acquisitions.
One year after the Sunday morning implosion of the coliseum, Ken Thompson was ousted as Wachovia Corp.'s chief executive. The financial crisis was in full swing — and Pope & Land's sale agreements went up in smoke. Other than a sign and a trailer, City Park was quiet. Behind the scenes, Pope & Land decided to hold the property they had spent so much time and money on. In 2010, the firm raised the capital to buy its debt from Bouwfonds at a discount. "We looked around the table and said, 'We can double down or we can exit,' " Zimmerman says. In 2012, Pope & Land closed its first land sale at City Park to Oxford Properties, which is also based in Atlanta.
Pope & Land is now preparing to develop 18,000 square feet of retail space leading into the residential district. Lincoln Harris will lease it. Charles Jonas, a senior vice president with Jones Lang LaSalle, says the city's southwest submarket has been crying out for more shops and restaurants. Jonas leases a portfolio of office buildings at LakePointe Office Park, across from City Park. He says the area would be enhanced with new retail options for office workers. "To attract and retain the appropriate retail, you have to have rooftops," he says. "What they're doing across the street is they're specifically addressing that weakness with retail and multifamily housing."
Office development is planned for City Park as well. New Jersey real estate firm Vision Equities has a 27-acre site under contract that could accommodate 400,000 square feet, and United Properties, a developer based in Minnesota, has 15 acres under contract for office buildings. Those sales are scheduled to close next year, and Zimmerman, who has been here before, is cautiously optimistic. During a tour of the site he points out how residents will be able to drive or walk to the farmer's market. A landscape art installation called Regeneration will include a new sculpture made with salvaged steel from the coliseum.
"We are trying to create a place," he says. "This submarket has had a lot of cynics over the years. We are quietly trying to help move it forward."