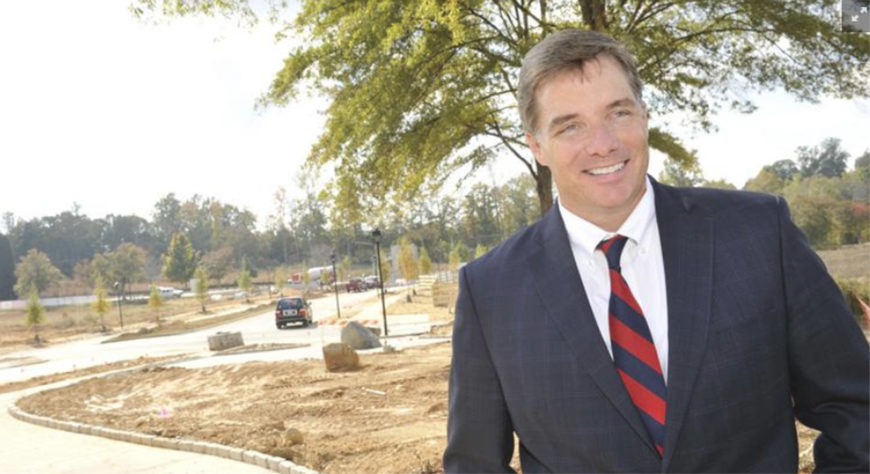 CHARLOTTE BUSINESS JOURNAL
Will Boye - Senior Staff Writer
It looks as though a few more pieces are falling into place out at City Park, Pope & Land Enterprises' multi-use project at the former Charlotte Coliseum site between West Tyvola and Yorkmont roads.
I mentioned in a post last week that CityPark View Apartments, the 284-unit development by Oxford Properties at City Park, is now 80% leased, and the Atlanta-based multifamily developer is making plans for a second phase. CityPark View was the first vertical construction at the 150-acre project, but in recent months Pope & Land has sold a couple of more parcels for hotel and retail development, and a 25-acre parcel is under contract to a single-family residential developer as well.
In June, MJM Group, a Raleigh-based hotel developer, purchased a nearly 3-acre site at the southeast corner of the City Park site, and it plans to build a dual-brand Marriott hotel at the property.
An affiliate of MJM, headed by Anuj and Vinita Mittal, bought the site from City Park developer Pope & Land in June for $2.5 million. The firm has cleared the tract and plans to build a 204-room property containing two hotels, according to a company representative: a Fairfield Inn and Suites, and a Residence Inn. Through a separate affiliate, MJM also purchased two retail outparcels adjacent to the hotel site that front Tyvola.
And national homebuilder NVR Inc. has agreed to purchase 24.5 acres at the City Park site as well, according to real estate records. NVR constructs and sells new homes under the Ryan Homes, NVHomes, Rymarc Homes, Fox Ridge Homes and Heartland Homes brands.
Mason Zimmerman, a senior vice president with Pope & Land, says he expects to deliver the first of 200 townhome lots to NVR in the first quarter of 2015.
"It's nice to have dirt moving again," he says.
Pope & Land acquired the Charlotte Coliseum site in 2006 and demolished the former home of the Charlotte Hornets in 2007. When the recession hit, the Atlanta-based development firm decided to hold on to the land and weathered the storm, closing its first land sale to Oxford in 2012.
Kurt Schoenhoff of Selwyn Property Group represented MJM Group on the City Park purchase.
Last year, MJM Group started construction of its first development in the Charlotte region, a 118-room Courtyard by Marriott hotel at the corner of West W.T. Harris Boulevard and Statesville Road that was originally slated to open in 2013. That project has become entangled in litigation, however, and construction stopped months ago.
Multiple subcontractors have sued the general contractor on the hotel, Pro Construction Inc., as well as Western Surety Co. and MJM affiliate Atlas Hospitality, claiming they have not been paid for materials and labor. In court filings, Atlas, the MJM affiliate that owns the property, has denied all liability and has filed cross claims against Pro Construction, alleging breach of contract. Atlas says it has paid Pro Construction all amounts due, and it claims Pro Construction has failed to perform the work required under its contract.
In legal filings, Pro Construction says Atlas has refused to pay $2 million owed on the project. The Jacksonville, N.C.-based general contractor denies Atlas' claims that the labor and materials provided are defective.
"The building has severe defects," Karla Kassebaum, former director of operations at MJM, told me last month. "We are going to have a 118-room Courtyard there. That plan has not changed. We just have to get this resolved. We're moving through the legal process."