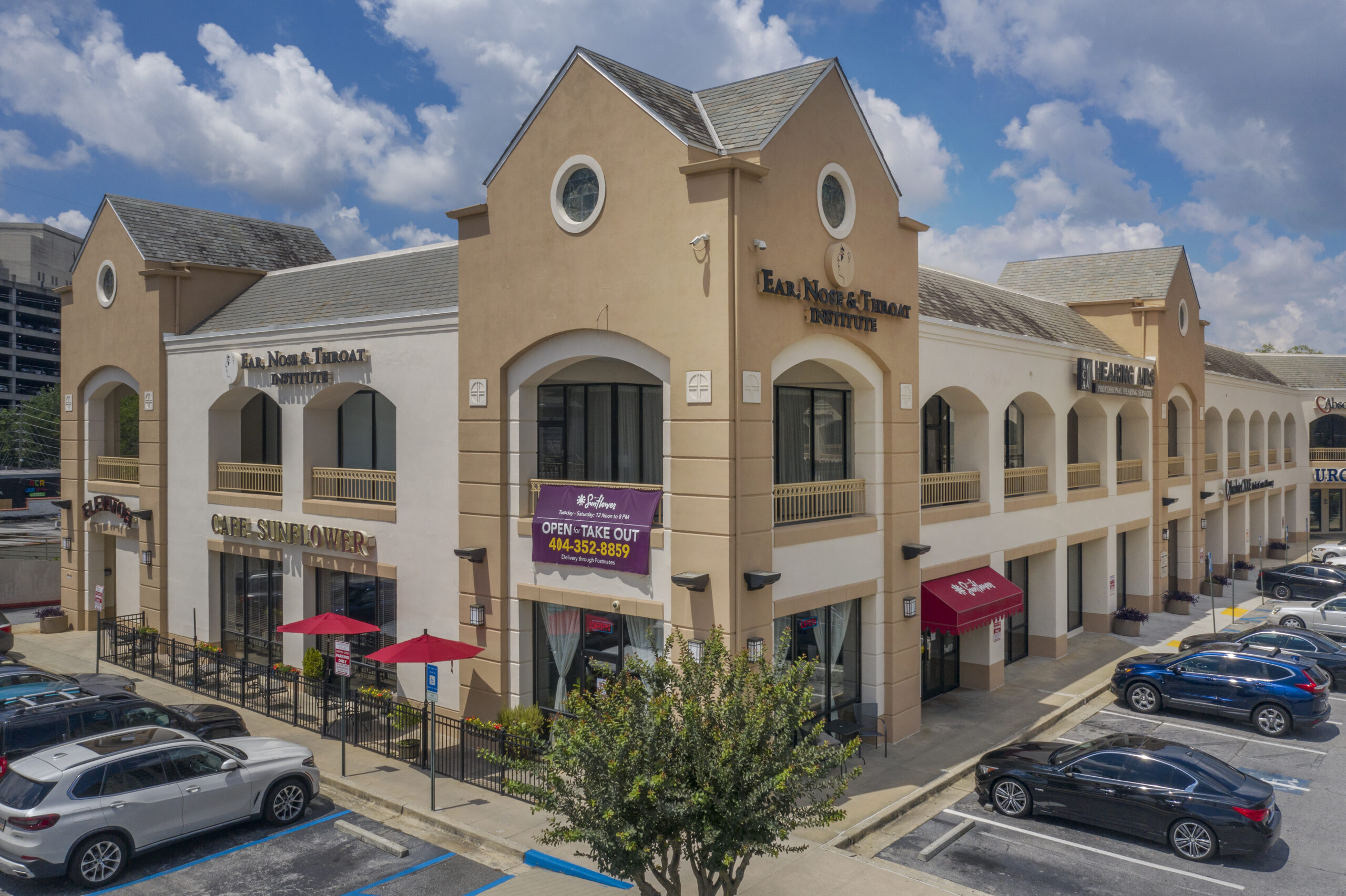 Pope & Land Real Estate
By: Kirk Billings, Managing Director / Development Partner
Atlanta, Georgia (Jan. 6, 2022) — Pope & Land and Coro Realty recently announced the sale and recapitalization of Brookwood Square, a 46,625 square-foot retail center on Peachtree Road in the affluent Buckhead area of Atlanta.
A venture led by Fairway Investments was the buyer. Both Pope & Land and Coro Realty will participate alongside Fairway in the go-forward investment.
The Pope & Land and Coro Realty partnership purchased Brookwood Square in 2014. It is home to a mix of tenants, including, healthcare-anchor, Absolute Care and local restaurants, such as, Cafe Sunflower. Coro Realty leased and managed the property with Pope & Land. In 2014, at closing, the partnership sold 2 acres of its original purchase for what became Venue-Brookwood.
According to Kirk Billings, Managing Director and Development Partner, Pope & Land, "We acquired a well-located center in one of the Southeast's most attractive markets as a value-add investment. Our teams were able to improve Brookwood Square, upgrade leases and deliver a very strong return over our seven-year hold. We are delighted to carry forward with Fairway in our ongoing effort to improve the asset and generate additional returns for our broader partnership."
The center is located at the intersection of Peachtree Road and Colonial Homes Drive. An estimated 42,340 vehicles per day pass Brookwood Square, which is just two blocks from Piedmont Hospital.
About Pope & Land Real Estate
Pope & Land specializes in developing office and mixed-use properties in the Southeastern United States and is firmly rooted in the real estate marketplace with a history dating back to 1979. Since 2000 alone, Pope & Land led partnerships have developed and acquired over 5M SF of office product, more than 400 acres of land and executed over $1 billion in real estate transactions. More information on Pope & Land is available at www.popeandland.com.
About Coro Realty
Coro Realty was founded in 1997 and is synonymous with intelligent real estate development and investment. With a commitment to smart growth, the urban landscape and innovation, Coro Realty continues to demonstrate its leadership in the market with the successful execution of quality investments. It provides investment, asset management, leasing and property management for a myriad of commercial and residential properties throughout the Southeastern United States. Coro Realty oversees approximately 50 properties valued in excess of $1 billion. For more information, visit cororealty.com.