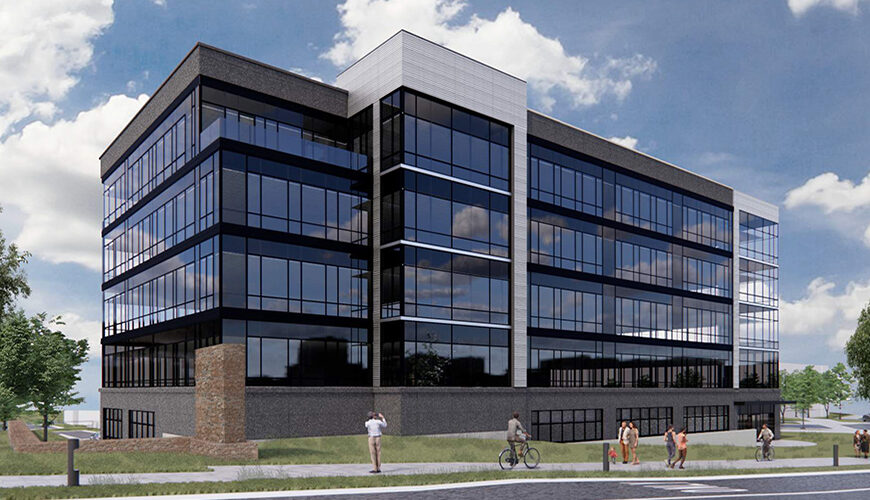 Pope & Land Real Estate
2000 Summit Place will be the second office building located at the fiber-fed, office-centric, mixed-use project in Alpharetta
ATLANTA, September 21, 2022 – Pope & Land Real Estate and Sumitomo Corporation of Americas (SCOA) have joined forces to develop 2000 Summit Place, a 60,000-square-foot office building that epitomizes workplace innovation and high visibility space, with smaller and more efficient floorplates of 15,000 square-feet each. The 2000 building will sit diagonal from the 100% leased 3000 Summit Place office building and is set to break ground in the first quarter of 2023 with delivery in mid-2024.
The 24.3-acre Northwinds Summit site is being developed in phases and is zoned for more than 1 million square feet of office space. In addition to the existing 3000 Summit Place, Northwinds Summit currently includes 140 units of multifamily with ground floor retail. The development will ultimately include a hotel, retail, additional residential as well as the one million+ square feet of office space.
2000 Summit Place will be located at the very entrance to Northwinds Summit, Pope & Land's mixed-use development in Alpharetta, situated at the intersection of Georgia 400 and Haynes Bridge Road. Using state-of-the-art technology and modern design, 2000 Summit Place will allow companies to recreate their dynamic workplace in an ever-changing environment and entice employees back to the office.
"Our goal with 2000 Summit Place is to build a smaller, more specialized building that solves the need for very high profile, prominent space. The pad site is situated directly on Haynes Bridge Road, which is a very attractive location in terms of access and signage. The building itself provides a unique situation for tenants who want premier space, while still giving a more intimate feel than a larger building can provide," stated Frances Land Klee, Pope & Land's Leasing and Project Director.
Pope & Land's leasing team is currently pre-leasing 2000 Summit Place and has already inked a long-term pre-lease with Applied Information, a current tenant in 3000 Summit Place. Applied Information and its Infrastructure Automotive Technology Laboratory (iATL), specializes in technology for the surface transportation infrastructure and has elected to expand its growing business at Northwinds Summit, totaling just under 20,000 SF throughout the park.
"Northwinds Summit is an ideal location for a growing technology company providing amenities, location and the capability to expand," said Bryan Mulligan, President of Applied Information, Inc. "Located in the heart of the Tech 400 Alliance, the iATL is a magnet that attracts automakers, cell phone companies and semiconductor manufacturers from around the world to partner with Applied Information."
Pope & Land expects to attract tenants that are driven by technology, recruiting top talent, and access to engaging amenities. Northwinds Summit is the area's first 100-percent fiber-fed business park with dark fiber solutions, courtesy of FiberLight. The fiber has been installed throughout the site, enabling new tenants to quickly access dedicated, high-capacity networks with the most secure lines available today.
The joint venture between Pope & Land and SCOA is an exciting new endeavor for Alpharetta, and 2000 Summit Place is sure to fulfill the evolving needs of North Fulton's tenants.
About Pope & Land Real Estate –
Pope & Land specializes in developing office and mixed-use properties in the Southeastern United States and is firmly rooted in the real estate marketplace with a history dating back to 1979.  Pope & Land led partnerships have developed and executed real estate transactions in excess of $3.8 billion. More information on Pope & Land is available at www.popeandland.com.
About Sumitomo Corporation of Americas –
Established in 1952 and headquartered in New York City, Sumitomo Corporation of Americas (SCOA) has eight offices in major U.S. cities. SCOA is the largest subsidiary of Sumitomo Corporation, one of the world's leading traders of goods and services. As an integrated business enterprise, the firm has emerged as a major organizer of multinational projects, an expediter of ideas, an important international investor and financier, and a powerful force for distribution of products and global communications through a network of offices worldwide. Its core business units include Tubular Products, Environment and Infrastructure, Steel and Non-Ferrous Metals, Transportation and Construction Systems, Chemicals and Electronics, Media and IOT Applications, Real Estate, Mineral Resources and Energy, and Food. For more information, visit www.sumitomocorp.com.
###END###
For Northwinds Summit Leasing Inquiries:
Frances Land Klee
+1 404-694-9492
fland@popeandland.com
Kerry Armstrong
+1 770-980-0808
karmstrong@popeandland.com
Jennifer Koontz
+1 404-216-6191
jkoontz@popeandland.com