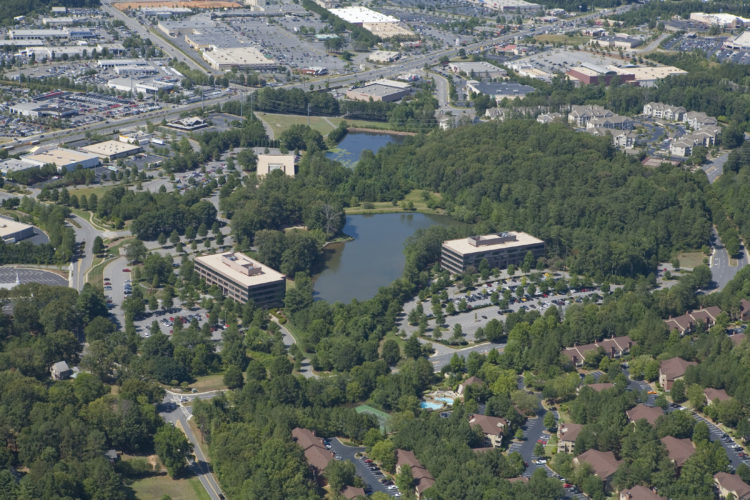 GlobeSt.com
By: Jennifer Leclaire
ATLANTA—Barrett Lakes Center, a three-property class A office development within Atlanta's Town Center office submarket, has traded hands. Financial terms of the deal were not disclosed.
CBRE's Will Yowell, Justin Parsonnet, and Jay O'Meara represented the seller,
Pope & Land Enterprises. Adventus Realty Services acquired the office complex, marking the firm's entrance into the Atlanta market with a core-plus investment.
"We felt confident about this purchase, considering the historical success of the office development and the demand in Town Center," Rodney Johnston, president and CEO of Adventus, tells GlobeSt.com. "We knew this was a property that had been well taken care of, as Pope & Land saw the development from the ground up and created a desirable office environment. Atlanta is a target market on our radar, and we are pleased to kick-start with Barrett Lakes Center."
The three-building office property spans 314,604 square feet along the Interstate 75 corridor. As its name suggest, the office buildings sit right off Barrett Parkway and minutes from Cobb Parkway and Interstate 75. Town Center is home to brand name anchor tenants such as AT&T, The Home Depot and Kaiser Permanente.
"Town Center has outperformed other Atlanta submarkets with a historically tight and stable office inventory highlighted by a class A vacancy rate of less than 1%," Justin Parsonnet, CBRE executive vice president, tells GlobeSt.com. "At 98% leased at the time of the sale, Barrett Lakes Center is a top-performer in the desirable submarket. New to the Atlanta market, Adventus has made a smart inaugural acquisition."
Pope & Land is the original owner and developer of Barrett Lakes Center. Mason Zimmerman, managing partner of the ownership entity, P&L Barrett, tells GlobeSt.com there are very few assets of this size and quality in the Atlanta metro area in which the original developer and owner has been consistently involved for almost 20 years.