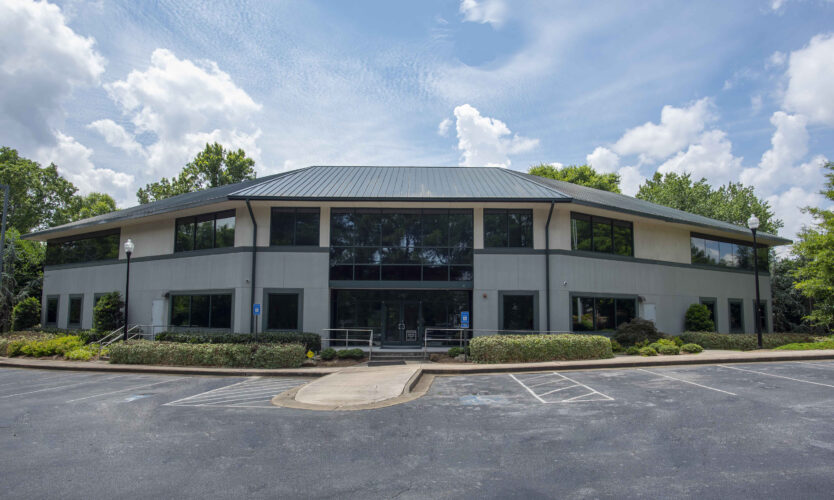 Pope & Land Real Estate
At the end of 2019, a Pope & Land entity acquired the former Cobb Chamber of Commerce office building with the goal of either repositioning the asset or redeveloping the 1.7-acre site into a mixed-use project. The 25,000 SF building, located in the shadow of Truist Park at the intersection of Interstate North Parkway and Windy Ridge Parkway, was renamed Pennant Point. Pope & Land was in the process of repositioning and renovating the two-story building when representatives from the non-profit Tommy Nobis Center approached Pope & Land with an offer to acquire the building. The Tommy Nobis Center was attracted to the property due to its visibility, location, and access to area amenities like The Battery Atlanta and the nearby Bob Callan Trail system.
They saw the Pennant Point property as an opportunity to consolidate the office component of their operations and separate it from the warehouse and other services provided by their organization.
After a lengthy review period, Nobis Works acquired the property from P&L 240 INOP, LLC on December 14, 2022. Scotland Wright Associates represented the Tommy Nobis Center. Located in a 52,000-sf facility in Marietta since 1992, the organization plans to relocate to the new property later this year.
History of Tommy Nobis Center — Tommy Nobis was one of the most prolific linebackers in the history of the NFL. He was the first ever player drafted by the Atlanta Falcons organization in the inaugural 1966 season and quickly became the first ever Falcon voted to the Pro Bowl. With the same passion he devoted to football, Tommy dedicated his post-retirement life to the Special Olympics and helping people with disabilities find meaningful employment. Since 1977, the mission of the Tommy Nobis Center has been to empower people by implementing innovative programs and services that focus on meeting the needs of people with disabilities through education, training, and employment. He passed away on December 13, 2017, but his legacy lives on through the ongoing impact of the Tommy Nobis Center.