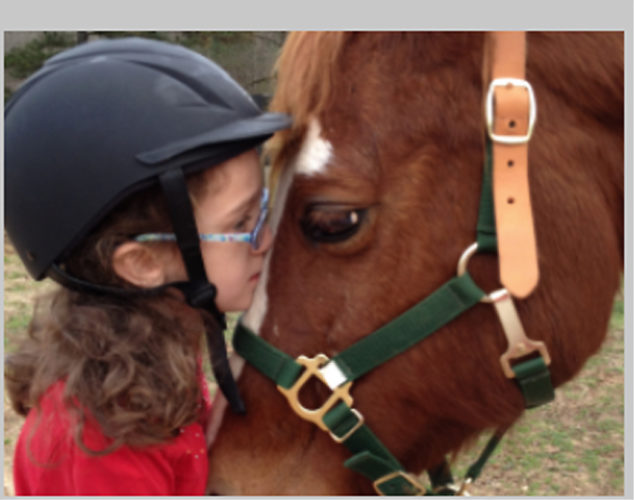 Pope & Land Real Estate
By: Pat Becker, Marketing
Pope & Land employees recently volunteered at "Belly Up For The Barn", a fundraising event held at the Alpha Equestrian Center in Woodstock to benefit Heaven's Gait Therapeutic Riding Center, a non-profit organization that provides emotional, physical and social benefits for children and adults with special needs such as Cerebral Palsy, Down Syndrome, Asperger Syndrome, Autism, Developmental Delay and other therapeutic needs. The event, which included a silent auction & raffles, food trucks, live music and craft beer provided by a local brewery, was a huge success in raising much needed funds for the program.
Owner and PATH Certified Therapeutic Riding Instructor Kelly Rickard has been teaching Therapeutic Riding since 2009. Her love for the children is obvious in her teaching style, and having fun on the horse is second only to safety in the lessons. After an initial visit to the barn and discovery of health history, physical function and psycho-social function, goals are set and riding sessions begin. Parental input is always welcomed and new weekly issues are always discussed.
Kelly takes a Heaven's Gait Therapeutic Riding Team to compete at the Georgia Special Olympics every year. Click on the link below to watch the latest video or to make a tax- deductible charitable donation, which will provide scholarships for therapy students, support therapy horses and help sustain Heaven's Gait Therapeutic Riding.
http://www.hgtrinc.com/therapeutic-riding/
At the heart of this non-profit organization is their volunteers. Without volunteers – and they are a wonderful group – they could not afford to operate and bring this incredible therapy to this community. If you'd like to volunteer, they have opportunities for side walking, leading horses, grooming, helping in the barn, fund raising, administration, all kinds of things – whatever your talents are, they need them. Click on the link below to access their Volunteer Handbook with additional information.
https://sites.google.com/a/hgtrinc.com/volunteer-training/
Volunteer: Together Everyone Achieves More