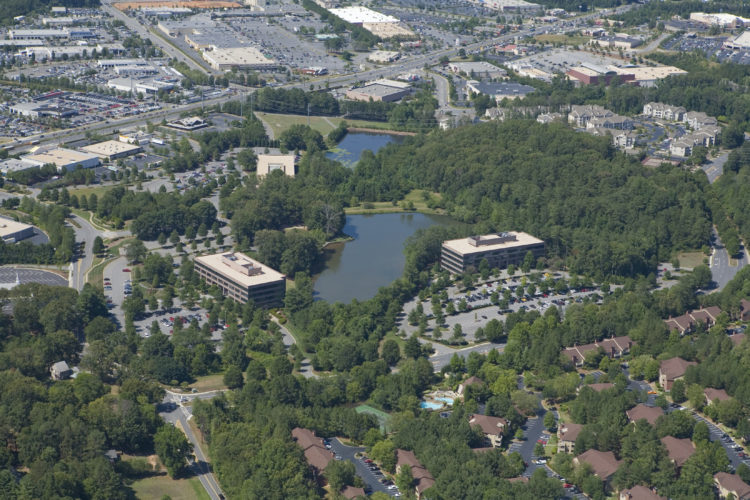 Citybizlist
CBRE Group, Inc. today announced that the firm has finalized the sale of Barrett Lakes Center, a three-property Class A office development within Atlanta's Town Center office submarket. CBRE's Will Yowell, Justin Parsonnet and Jay O'Meara provided investment expertise to complete the transaction on behalf of Pope & Land Enterprises, Inc. Adventus Realty Services purchased Barrett Lakes Center on Jan. 15, 2016.
The purchase marks Adventus' first venture in Atlanta, and the area and asset provided a core-plus investment opportunity for the firm to enter the market. "We felt confident about this purchase, considering the historical success of the office development and the demand in Town Center," said Rodney Johnston, President and CEO of Adventus Realty Services. "We knew this was a property that had been well taken care of, as Pope & Land saw the development from the ground up and created a desirable office environment. Atlanta is a target market on our radar, and we are pleased to kick-start with Barrett Lakes Center."
The three-building property consists of 314,604 sq. ft. along the I-75 corridor. It is ideally positioned just off of Barrett Parkway and minutes from Cobb Parkway and I-75, offering tenants seamless access from top residential neighborhoods. Town Center is home to brand name anchor tenants such as AT&T, The Home Depot and Kaiser Permanente.
"Town Center has outperformed other Atlanta submarkets with a historically tight and stable office inventory highlighted by a Class A vacancy rate of less than 1 percent," said Justin Parsonnet, CBRE Executive Vice President. "At 98 percent leased at the time of the sale, Barrett Lakes Center is a top-performer in the desirable submarket. New to the Atlanta market, Adventus has made a smart inaugural acquisition."
"This is an office environment that provides all of the top characteristics investors and tenants look for," said Will Yowell, CBRE Vice Chairman. "The combination of a destination residential markets, top talent from metro Atlanta and nearby Kennesaw State University, easy access to top infrastructure in Atlanta and a desirable and stable office product."
Pope & Land and CBRE are well versed in the area. The CBRE team has sold seven office buildings in Town Center over the last five months and Pope & Land is the original owner and developer of Barrett Lakes Center. "It has been a long journey which began when we developed the first building in Barrett Lakes Center in the late 1990's. There are very few assets of this size and quality in the Metro area in which the original developer and owner has been consistently involved for almost 20 years," said Mason Zimmerman, Managing Partner of the ownership entity, P&L Barrett L.P.
Adventus is retaining Pope & Land for the leasing and management of the three office buildings.
"It was a tough decision to sell," Zimmerman said. "With all three buildings full, rents rising and minimal lease expirations throughout the portfolio, combined with cap rate compression and a tight submarket, it was the right time for us to sell. CBRE generated a tremendous amount of interest in the asset from investors across the country. Ultimately, we chose Adventus and we couldn't be happier with our selection. They understand and appreciate the asset and they are absolutely the right buyer to succeed us in ownership."
The sale of Barrett Lakes Center is the latest in a series of recent Class A Town Center sales, including Town Park Commons, Town Park Ravine and Barrett Summit. The sales total more than $180 million of transactions to institutional quality investors.
About CBRE Group, Inc.
CBRE Group, Inc. (NYSE:CBG), a Fortune 500 and S&P 500 company headquartered in Los Angeles, is the world's largest commercial real estate services and investment firm (in terms of 2014 revenue). The Company has more than 70,000 employees (excluding affiliates), and serves real estate owners, investors and occupiers through more than 400 offices (excluding affiliates) worldwide. CBRE offers strategic advice and execution for property sales and leasing; corporate services; property, facilities and project management; mortgage banking; appraisal and valuation; development services; investment management; and research and consulting. Please visit our website at www.cbre.com.