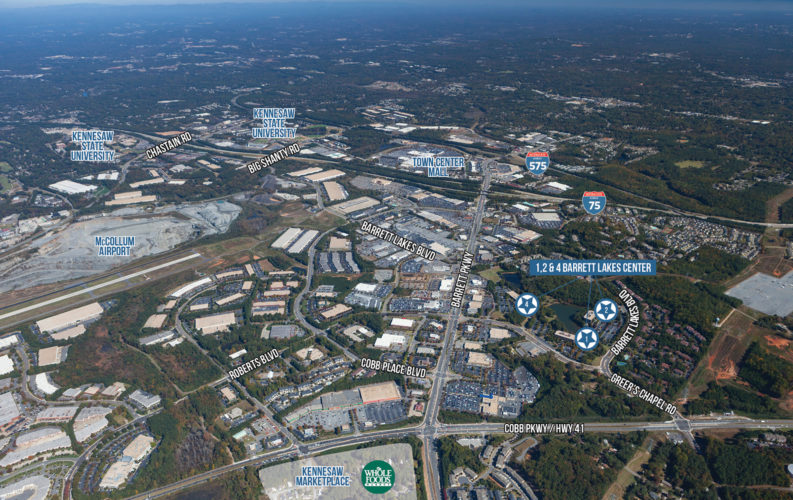 MORNINGSTAR
TheNewswire / January 26, 2016 – Adventus Realty Trust ("Adventus") is pleased to announce the acquisition of Barrett Lakes Center, located in the Kennesaw Town Center submarket of Atlanta, Georgia. Barrett Lakes Center consists of three Class A office buildings in one of Atlanta's premier suburban office locations.
"The Barrett Lakes Center is our first acquisition in the Atlanta suburban office market, and represents a geographical diversification significant to the overall strength of the Adventus portfolio," commented Rod Johnston, President and CEO of Adventus. "Barrett Lakes Center is a top tier office asset accessible to high-end neighborhoods and executive communities in the high-growth Kennesaw Town Center submarket of northwest Atlanta."
"Atlanta has been identified as a premier target market due to its diverse and growing economy, highly trained workforce and low cost of doing business. Atlanta has one of the largest economies in the US, a large concentration of Fortune 500 headquarters, and a long-term job growth rate that is almost three times higher than the national average. This is further evident as Atlanta is home to the world's busiest airport for passenger traffic, Hartsfield-Jackson International Airport."
Mr. Johnston continued, "Suburban office market fundamentals in Atlanta provide an exceptional opportunity for yield and growth. Population and job growth have increased annually for the last five years; however new office construction in suburban Atlanta has not kept pace. These fundamentals have put upward pressure on rental rates while remaining vacancies continue to tighten."
Barrett Lakes Center
Located in Kennesaw, Georgia, Barrett Lakes Center has 314,604 square feet of leasable space, and was acquired for US $49.75 million, or US $158/sf, significantly below its replacement cost of US $300/sf. The property, which is 96% leased with an average lease term of 6.3 years, includes a development site for a 75,000 square foot building acquired for an additional US $1.0 million. Based on a 3-year average net operating income, the property was acquired at a cap rate of 7.85%. Barrett Lakes Center has a long-standing tenant base averaging over 13 years with the property.
Debt financing for the property was initiated by JPMorgan who provided US $34.53 million of non-recourse first mortgage financing on a 10 year basis at a fixed interest rate of 4.9%.
About Adventus
Adventus is a Canadian based private Real Estate Investment Trust (REIT) and is focused on US income producing commercial real estate, primarily in the suburban office markets of Chicago, Illinois and Atlanta, Georgia. For more information on Adventus including our team, corporate strategy, photo gallery, details of our portfolio and press releases, we invite you to visit our website at www.adventusrealty.com.
Cautionary Statements Regarding Forward-Looking Statements
This press release may contain forward-looking statements with respect to the REIT and its operations, strategy, financial performance and financial condition, as well as with respect to the previously disclosed acquisitions and future acquisitions of properties. These statements generally can be identified by the use of forward-looking terminology such as "anticipate", "believe", "plan", "forecast", "expect", "intend", "would", "could", "if", "may" and similar expressions. The actual results and performance of the REIT and the acquisitions discussed herein could differ materially from those expressed or implied by such statements. Accordingly, readers should not place undue reliance on forward-looking statements. These cautionary statements qualify all forward-looking statements attributable to the REIT and persons acting on its behalf. Such statements are qualified in their entirety by the inherent risks and uncertainties surrounding future expectations. Some important factors that could cause actual results to differ materially from expectations include, among other things, general economic and market factors, changes in interest rates, competition and changes in securities or other laws or regulations or the application thereof. The cautionary statements qualify all forward-looking statements attributable to the REIT and persons acting on its behalf.
Unless otherwise stated, all forward-looking statements speak only as of the date of this press release. Except as required by applicable law, the REIT specifically disclaims any obligation to update or revise any forward-looking statements, whether as a result of new information, future developments or otherwise.
ADVENTUS REALTY TRUST
By its Trustee: ADVENTUS REALTY SERVICES INC.
Per: Rodney B. Johnston, FCPA, FCA
President and Chief Executive Officer