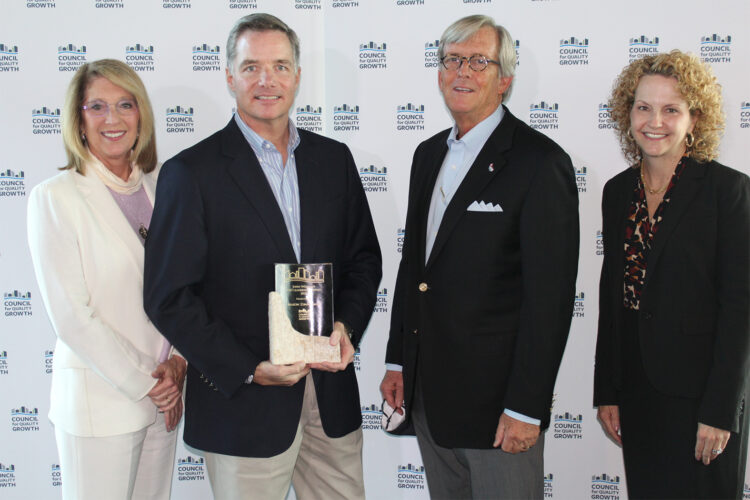 Council For Quality Growth
Pictured from left to right: Connie Engel, Mason Zimmerman, Bob Voyles and Executive Director Kim Menefee.
Congrats to our very own Mason Zimmerman for being selected for the prestigious John Williams CID Leadership Award by the Council for Quality Growth at the awards ceremony that was held on November 5, 2020.
The award recognizes those who have played an instrumental role in championing CIDs around the metro Atlanta region through their vision, leadership, and dedication. Previous award recipients include: Governor Roy Barnes, Senator Johnny Isakson, Tad Leithead, Kerry Armstrong and Bob Voyles.
This year, the Council recognized Mason Zimmerman, Senior Managing Development Partner at Pope and Land Enterprises. "Mason has made significant contributions serving on several CID boards over the years, and this award is much deserved for a true visionary," states Council for Quality Growth President Michael Paris.
Zimmerman has been actively involved in CIDs since the founding of Town Center CID in 1998, where he served as chair and vice chair for Town Center CID for many years. He has also served on the Board of the Cumberland CID since 2003 and serves on the Board of the Little Five Points CID.
Zimmerman has long been a proponent of melding transportation and land use planning to ensure an outcome that will serve the CIDs' long-term interests by implementing critical infrastructure projects that will attract new private investment, create jobs and enhance quality of life for the region. He was instrumental in creating the Town Center Community Alliance, which is the 501(c)(3) organization companion to the CID formed to support programs that enhance the Town Center amenities and lifestyle.
Zimmerman has more than 30 years of experience in commercial real estate investment, development, brokerage and leasing. He joined Pope and Land Enterprises in 1996 after eight years with AMLI Realty Co. He is the owner of a real estate service and investment company, Western & Atlantic Development, LLC and a partner in the consulting firm, Strategic City.