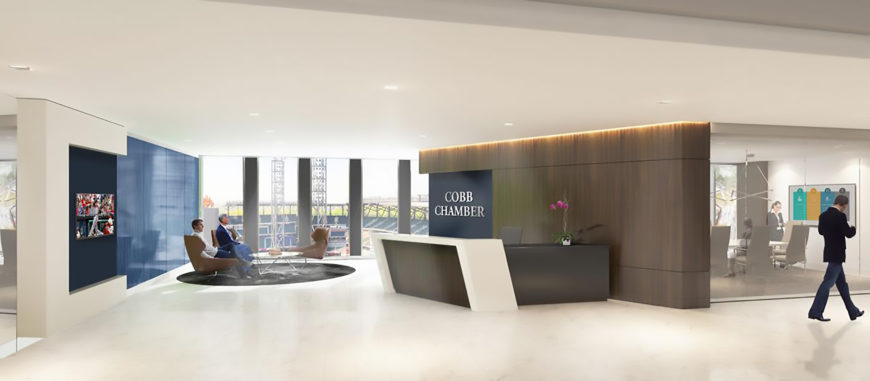 Marietta Daily Journal
By: Thomas Hartwell
The Cobb Chamber has announced the sale of its headquarters building at 240 Interstate North Parkway and plans to lease 17,517 square feet on the tenth floor of a building at 1100 Circle 75 in Cumberland.
Pope & Land, a Cumberland-based real estate agency, purchased the chamber building and 1.7 acre property off Interstate North Parkway, and the chamber and its tenants — the Cumberland Community Improvement District and Cobb Community Foundation — are expected to relocate to the new location by early 2020, according to a news release from the Chamber.
"After an extensive search for our new home, we ultimately selected 1100 Circle 75 for its prime location in the heart of the Cumberland CID," said Sharon Mason, president and CEO of the Cobb Chamber. "The Cobb Chamber is experiencing a time of tremendous growth and momentum, and we are excited to match our brand with this new space that will help us tell Cobb County's story to the 12,000-plus members and guests we host each year, along with the prospective companies we are recruiting to Cobb."
Located across from SunTrust Park and The Battery Atlanta, the full-floor lease offers 360-degree views of metro Atlanta, according to the release. The new space will feature meeting rooms and event spaces, improved technology, modern workspaces, "huddle rooms" to foster collaboration and a bistro-style break room, the chamber reports.
"Circle 75 allowed the Cobb Chamber the opportunity to create a forward-thinking space that's a reflection of all of the great things about Cobb County while offering a fiscally responsible alternative compared to other buildings in the market," said Chad Koenig, senior director with Cushman & Wakefield. Koenig's company represented the Cobb Chamber in its leasing negotiations.
Chamber Chairman Mitch Rhoden, president and CEO of Futren Corporation, said the new location also reflects the chamber's values, as well as "inspires pride and builds excitement."
The release did not spell out the cost of the new lease or what will happen to the old location.