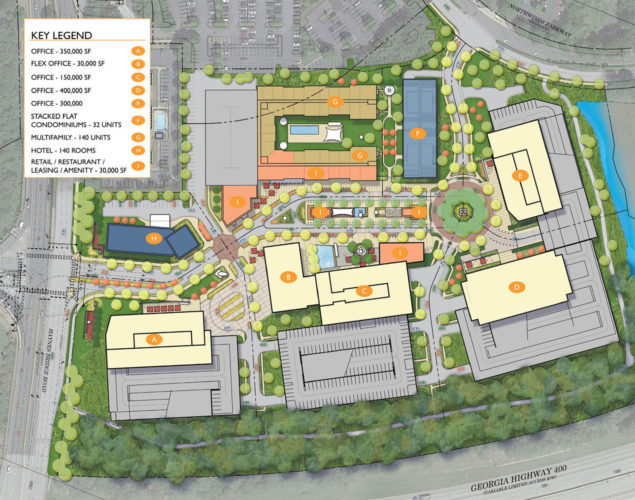 NorthFulton.com / HERALD Newspapers
Hatcher Hurd
ALPHARETTA, GA – Alpharetta's skyline is set to grow with plans submitted by Pope and Land that will place 1.1 million square feet of office space at the intersection of Haynes Bridge Road and GA 400.
It is a staggering $450 million project, but Pope and Land director and development partner Kerry Armstrong says it is the right development at the right time and in the right place.
The property is zoned for the Class A office space, but Pope and Land wants to create a campus that will also include apartments, condominiums, a 140-room hotel and 30,000 square feet of commercial space.
"This is something that has been in the works for some time," Armstrong said. "After all, Pope & Land has owned that property for 25 years."
The project is ready to move forward now, and will go before the Alpharetta Planning Commission then to the City Council for final approval.
Office is the primary use for the project. The commercial-retail will be mostly to service the residents and office needs for the project. The hotel as well will likely be little competition to existing hotel beds, again supplying the requirements of the onsite office users.
"It is a live-work-play-stay development. It will include a health club and other services oriented for the location," Armstrong said. "But this product is heavy on jobs. That is what the market is – jobs."
The apartments, condos and retail mix are the right size to complement the live-work-play environment, he said.
"It creates a livable, walkable destination. It's the right product for the suburbs and especially Alpharetta."
Another element that Armstrong is keen on is the location will be on the southern link of the city's inner loop walking trail. It's the kind of amenity that the tenants Pope & Land are seeking to have.
"We're excited about that and anxious to get working on that with them. It's a great plan, and we're in a position to figure prominently with it," Armstrong said.
The first phase is contemplated to be 185,000 square feet of office. Ultimately the office will have one component of five-story office and a second two-story office component.
"The other buildings envisioned – depending on the market – would be 350,000 square feet, or 13-, 14-, or 15 stories. That area has always been identified as Alpharetta's suburban high-rise site," Armstrong said.
Armstrong concedes it is a lot to put on a 24-acre site, but that it can accommodate it with direct access off GA 400.
"There is not a better site than Haynes Bridge and GA 400. It's where the transportation infrastructure, the traffic signals and everything are."
For many years the project lay mostly dormant as a joint partnership between Pope and Land and Duke Realty. Then Pope and Land bought out Duke. And now it is bringing the project forward.
Mayor David Belle Isle said he has not yet seen the plans – it was only submitted last week – but it looks like the third leg of the Alpha Link, the proposed inner loop city trail that will link with Alpharetta City Center and Avalon.
"The loop is designed in such a way as to be an anchor on Haynes Bridge Road," said Belle Isle.
With North Park on North Point Parkway, a 48-acre mixed-use development of Class A office, condos, apartments and retail, Alpharetta is seeing a building boom unlike anything since the mid-1990s.