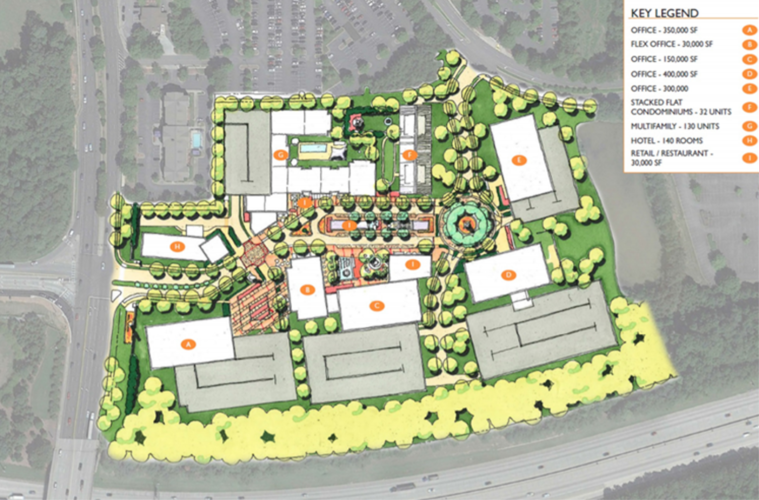 BISNOW.COM
Jarred Schenke- Bisnow, Atlanta
One of Atlanta's most prominent office developers is setting the table for a big mixed-use project in Alpharetta that would include apartments, a hotel and up to five office buildings.
Pope & Land Enterprises has filed a development of regional impact request with the Georgia Department of Community Affairs for a project it calls Northwinds Summit.
The proposed development, at the northwest corner of Georgia 400 and Haynes Bridge Road, includes more than 1.2M SF of office, along with a 140-room hotel, 30K SF of retail and restaurant space, 140 apartment units and 32 "stacked condominiums," according to the application.
"I think what you're seeing is suburban office beginning to reinvent itself," Pope & Land director of business development Kerry Armstrong said, adding new developments need to become more walkable and dense.
Armstrong said the first phase of the 24-acre site, just a couple of miles south of the Avalon project, a massive, upscale, 2M SF mixed-use complex, is slated to include a 185K SF Class-A office building, as well as apartments, a hotel and a smattering of retail (assuming its rezoning into a mixed-use parcel is approved).
According to documents, Pope & Land intends to deliver on the full project by 2022. Armstrong said his firm has not lined up any financing yet, but its preliminary conversations with potential tenants is encouraging.
"We're prepared to get the first phase underway," he said. "We're not in a hurry, but we're not letting our heels cool, either."
Pope & Land has developed a number of buildings on Metro Atlanta's skyline, including the 3630 Peachtree office tower (in a JV with Duke Realty) in Buckhead, the iconic Atlantic Center Plaza in Midtown (affectionately known as Mini Me) and elements of The Battery at SunTrust Park, most notably the 270K SF Comcast office building.
Official Pope & Land marketing materials on Northwinds Summit echo Armstrong's emphasis on a mixed-use environment.
"We have reimagined the masterplan to include a highly walkable and deliberately amenitized 24-hour village center," company documents state. Instead of being "centered around major retail shopping," Pope & Land officials stated that it will offer amenities for the "needs, wants and established trends of the office worker," such as coffee shops, cafés, restaurants, a fitness center, and social games and activities.
In some ways, the project could be viewed as an extension of the groundbreaking luxury mixed-use project Avalon — where Microsoft will occupy 50K SF of offices — thanks to coming road improvements. Lincoln Property senior vice president Hunter Henritze, who focuses a lot of his office work in North Fulton County, said the extension of Northwinds Parkway could make this project viable going forward by imbuing it with a sense of connection to Avalon.
The project, expected to be completed this year, extends the road from Kimball Bridge Road to Old Milton Parkway, right at the entrance to Avalon.
"Northwinds was always kind of one of the top locations," Henritze said. "But [the Northwinds Parkway extension] almost kind of directly connects it to Avalon."
Pope & Land is not the only firm seeking a green light from regional planners in recent days. Fuqua Development also has filed DRI plans for what it calls Roswell Exchange, a planned redevelopment of an existing shopping center off Alpharetta Highway, near the intersection of Mansell Road in Alpharetta.
According to DRI filings, Fuqua intends to develop 164K SF of commercial space and 300 apartment units, averaging 950 SF. This is Fuqua's latest development play in Metro Atlanta. On March 3, the firm filed permits with the City of Atlanta to begin land preparation for a grocery-anchored mixed-use project — which will include more than 500 apartment units — off Memorial Drive in Reynoldstown.
Read more at:  https://www.bisnow.com/atlanta/news/mixed-use/pope-land-going-for-walkability-with-1m-square-feet-of-office-in-alpharetta-71885?be=pat%40popeandland.com&utm_source=Newsletter&utm_medium=email&utm_campaign=wed-08-mar-2017-000000-0600_atlanta-re