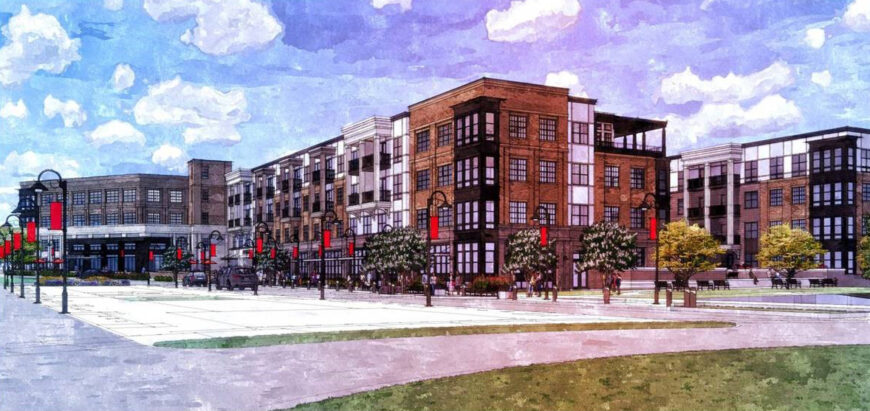 Pope & Land Real Estate
For Immediate Release
Multifamily Construction will add 140 units to the fiber-fed, office-centric, mixed-use project in Alpharetta
ATLANTA, May 20, 2020 – Worthing Southeast has begun construction of "The Heights at Northwinds," the multi-family component located within Northwinds Summit, Pope & Land's office-centric, mixed-use development in Alpharetta, situated at the intersection of Georgia 400 and Haynes Bridge Road.
The 24.3-acre Northwinds Summit site is being developed in phases, and ultimately will include more than 1 million square feet of office space.
In addition to the 140 units of multifamily currently under construction, Phase I consists of the already delivered and substantially leased 30,000-square-foot 3000 Summit Place office building, home to the headquarters of FiberLight, a leading telecommunications provider as well as the Infrastructure-Automotive Laboratory known as iATL, a premier center for connected vehicle traffic infrastructure technology development.
Coming later this year, Pope & Land will break ground on the 150,000-square-foot 5000 Summit Place office building. Phase I will also include a 140-room boutique hotel, 18 stacked flat condominiums and 15,000 square feet of restaurants and amenity retail scheduled to complete in 4Q2021.
Future phases will include three larger office buildings – the 350,000-square-foot 1000 Summit Place, the 400,000-square-foot 900 Summit Place and the 350,000-square-foot 10000 Summit Place. An additional 15,000 square feet of restaurants and amenity retail is also planned.
About Northwinds Summit –
Northwinds Summit is the area's first 100-percent fiber-fed business park with dark fiber solutions, courtesy of FiberLight. The fiber is already installed throughout the park, enabling new tenants to quickly access dedicated, high-capacity networks to rapidly scale cloud connectivity, Internet or other transport services with one or multiple 1 to 100 Gbps connections.
Brasfield & Gorrie is the contractor for the development. Cooper Carry is the architect.
Northwinds Summit is positioned at Alpharetta's front door, on Haynes Bridge Road, directly off GA-400 via a signalized intersection with a dedicated lane off the interchange.
Pocket parks and outdoor collaborative areas will be located throughout the development, connected by Alpha Loop, Alpharetta's version of the Atlanta BeltLine. The Alpha Loop is a multi-use trail that runs through the heart of Northwinds Summit linking it to Downtown Alpharetta and Avalon, located one mile away.
About Pope & Land Real Estate –
Pope & Land specializes in developing office and mixed-use properties in the Southeastern United States and is firmly rooted in the real estate marketplace with a history dating back to 1979. Since 2000 alone, Pope & Land led partnerships have developed and acquired over 5M SF of office product, more than 400 acres of land and executed over $1 billion in real estate transactions. More information on Pope & Land is available at www.popeandland.com.
###END###
For Northwinds Summit Leasing Inquiries:
Frances Land
+1 404-694-9492
Kerry Armstrong
+1 770-980-0808