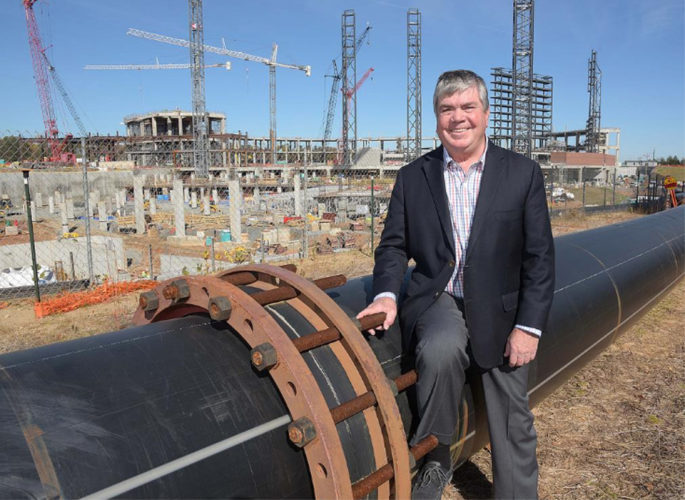 ATLANTA BUSINESS CHRONICLE
By: H.M. Cauley - Contributing Writer
Is it nature or nurture? Larry Kelly, president of Pope & Land Enterprises, Inc., can argue that it took equal elements of both to put him at the pinnacle of the commercial real estate industry.
"My father was a residential real estate agent in Athens, and I was first exposed to the business there," recalls Kelly, 62. "When I went to UGA, I majored in real estate and urban development and was one of the rare people who got a job in their field of study. I liked that real estate was extraordinarily broad; it allows you to focus on many aspects. But the big attraction for me was that it was not a job in a factory, office or retail store. And it has the benefit of there being no limit to what you can achieve. It's whatever you make of it; it can grow it as large as you like. Real estate doesn't fit into a box."
In 1975, Kelly met his mentor and partner, A.J. Land, who showed him the ropes of commercial real estate.
"I went to work with his company right out of UGA and began in office leasing in the Perimeter area," he said. "I focused on office and mixed-use development and my early career was part of the River Edge building in northwest Atlanta, downtown Decatur and the Cumberland Center. We assembled the land for Buckhead's Terminus project. And we're now working with the Braves' Battery project and the Town Center area in Cobb, and several projects along the Georgia 400 corridor."
In the early 1990s, Kelly took over the helm of Pope & Land, and though he's kept the focus on large mixed-use, industrial, residential and office projects across metro Atlanta, the firm also extended its reach into Charleston, S.C., Charlotte, N.C., and Jacksonville, Fla. But real estate is more than just about putting together land deals and structures.
"Real estate benefits the community by building buildings that form a sense of place," said Kelly. "The business has certainly changed dramatically and become more complex, and the levels of sophistication from logistics through developing buildings have changed, but in the end, it's still about a place for people to live, work and shop."
Bob Hughes, president of Buckhead-based HGOR Planners and Landscape Architects, saw Kelly's consideration for that detail early in the late 1970s, when both were just starting their careers. After examining the staked-out footprint of a five-story office building, Kelly told him, "You know, if we pulled up all the stakes and moved them about five feet, we could save the trees all around the site." They did, and only the trees were the wiser.
"You'd probably get your permits pulled for doing something like that today," said Hughes with a laugh. "We didn't have any idea what we were doing, but we had a lot of fun doing it. I can't tell you how many projects we're worked on since that day. I've been fortunate to have worked with a log of smart people, but Larry's in my Top Five. Nobody has a sharper brain in the real estate business. He can take a pen and napkin and figure a project out faster than anyone I've ever seen."
Kelly has shared that knowledge with others industry members though 30 years of active membership in the NAIOP Georgia, the local trade association that is honoring him this year with its Carter-Mathis Award for his contributions to the profession. John Robbins, a past NAIOP Georgia President, said the honor goes to Kelly for his involvement in the organization, what they've achieved through their career and their integrity.
"I've been a partner with Larry and know him as a friend and mentor, and he's as honest as the day is long," said Robbins. "He's super sharp: He can look at a deal and analyze it very quickly. He sees opportunities that others may not. And he always does the right thing."
Land, who formed Pope & Land with Kelly in 1979, credits his partner with building the company to its present prominence.
"He started as a young man and developed a thorough knowledge of real estate," said Land. "I also knew Frank Carter and Harvey Mathis, who this award is named for, and they were both men of integrity, like Larry. To me, he exemplifies those same traits."
The case for "nature vs. nurture" hasn't stopped with Kelly, either. Both of his sons are now working in the industry. Frank Kelly at Pope and Land for 13 years and Matt Kelly with a residential firm in town.
"They grew up in the business, hearing it discussed around the dinner table," said Kelly. "That they've both taken it up is pretty neat. It certainly is challenging and difficult, but it's also very rewarding. It's given me the biggest opportunities I can imagine."